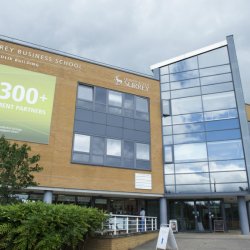 Steve Bartley
Steve Bartley is Regional Sales Manager EMEA at ShopperTrak
What attracted you to choose the University of Surrey and to study the MBA here?
Surrey's reputation. I have also lived and worked in Surrey for the past 12 years and with a growing family and busy work commitments it was important that I was locally based.
What were the best things about your course?
Challenging myself alongside others and working collaboratively with likeminded members of our cohort. Also the social interaction was strong and I have built a new circle of business friends.
How did you change as a person during your time as an MBA student?
I believe I developed into a more confident person with a more balanced approach to business issues and opportunities.
What impact did the Surrey MBA have upon your career?
I changed jobs part way through my course, and demonstrating that I was pursuing an MBA was certainly a factor in my new company's decision to employ me. After my first 18 months, and upon completing my MBA I was given a more strategic role in the business with responsibility across Europe & the Middle East.
What are your thoughts on the importance of networking? Is a strong personal network important in business?
You can never have a wide enough personal network of friends and business contacts.
What one piece of advice would you give to people considering the Surrey MBA?
Be prepared for hard work and sacrificing social time with friends and family…and if you have a partner or wife be prepared to buy a "thank you" gift for supporting you at home during the course!
What is your strongest or happiest memory of your time at Surrey?
The study weekends and the interaction with course members, plus of course all of my immediate group achieving good results at graduation time!
Find out more about the Surrey MBA.