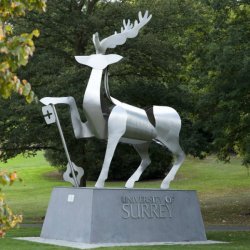 Subash Chellathurai
Subash Chellathurai is a Law Officer in Reserve Bank of India, the central banking and the monetary authority of India.
Course
International Commercial Law
Why did you originally choose to study at the University of Surrey? Why was it the right choice for you?
I loved the campus and the profile of the professors. Furthermore, the availability of the topic of my choice was also an inspiration to choose this evergreen university.
What were the highlights of your time at Surrey – both academic and social?
One of the major highlights of the university was that it had students from various countries and the campus atmosphere was so friendly that I could make a large number of friends across the world.
Also, the professors at the university were so cordial that I could interact with them freely during my study in the university. The opportunity I got at the university to act as judge for an international level moot court competition for the undergraduate students was one of the memorable moments of my stay at the university.
What would you consider to be the benefits of studying for a postgraduate law degree?
Developing a clear understanding of law and improving personality. At Surrey, the approach in postgraduate study was inculcating research qualities in student's minds, which I liked the most.
Tell us about your current job. How long have you been in this role and what are your main responsibilities?
I am employed as a Law Officer in Reserve Bank of India, the central banking and the monetary authority of India. I have been working for this prestigious institution for the more than 13 years and my role is to offer legal advice to it on matters of national importance and also on issues involving administration of various banking/ government securities/ foreign exchange etc. laws in India. I am also entrusted with the task of handling court cases.
How does your current career path match your ambitions as a student? What other jobs have you held?
My career path matches my ambitions to a major extent. My principal career achievements to date include becoming a judge and gaining my current job. My roles have included Civil Judge (Junior DN) and Judicial Magistrate First Class and Assistant Public Prosecutor. I have also had a short experience in serving at the National Labour Institute, Ministry of Labour, India.