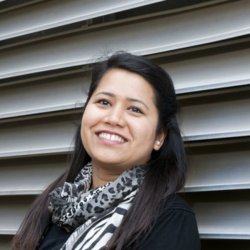 Sushma Acharya
"The reasons I chose Surrey included the course, beautiful campus, location, friendliness and the placement year option."
"I really enjoyed my undergraduate experience and wanted to stay to continue my education. I'm currently in the second year of my PhD in Chemistry studying heterogeneous catalysis. This area of research is very important because it has the potential to create catalytic systems capable of producing valuable products from inexpensive reagents with minimal environmental impact.
My supervisor is always encouraging and supportive and I'm learning a huge amount working with him. 
There is also support from other lecturers, PhD students and the Researcher Development Programme. Much of my research takes place at Surrey using the newest equipment the Faculty has to offer, but I have also had the opportunity to travel abroad to use European facilities to enhance my project."
Discover our chemistry programmes, including our PhD Chemistry.