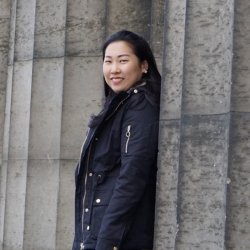 Sutthima Sriprasertsuk
"Surrey's MSc in Advanced Materials has been a life-changing opportunity for me."
Course
Advanced Materials
"Prior to coming to the University of Surrey for my Masters, I worked as an engineering consultant in Thailand, my home country, and realised what a strong influence advanced materials have on industrial activities. I chose to come to Surrey because it is well-known for its academic rigour.
On the MSc in Advanced Materials, I am loving both the theoretical and laboratory-based modules. The Department's extensive knowledge and research in advanced materials is broadening my perspective beyond academic boundaries into the commercial realm. The practical side of the programme also gives you the opportunity to collaborate with students from other courses who share your modules, which is a great experience.
What I most enjoy is learning about the complexity behind materials engineering. Strangely, the more difficult assignments can be the most enjoyable: it's so satisfying when you solve a particularly tricky problem. I feel that I always learn so much during this type of work.
The teachers and staff on my programme are research-active and share their knowledge of the latest technology being used to address a specific problem. They're also approachable and friendly – and quick to reply to our emails and questions. Since there's always more than one lecturer per module, students gain the best possible teaching in each area.
Surrey's Department of Mechanical Engineering is well-equipped with everything you need to consolidate your understanding of theoretical knowledge. There's also a library full of useful resources, and it's great to be able to access English language support, as well as help with coursework issues and research problems from the library staff.
Surrey's campus is the largest and most pleasant I've ever visited; one of my favourite places is the lake which is lovely and peaceful. You can find all the necessities on campus, while the University is also very well connected to Guildford via a short walk or regular bus service.
After my MSc I see myself working in a R&D team in the materials science field – be it in industry or academia. Surrey's MSc in Advanced Materials has been a life-changing opportunity for me.
Discover more about our mechanical engineering programmes, including our MSc Advanced Materials.