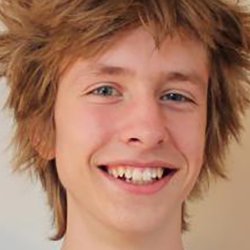 Thomas Cousins
"The best thing about Surrey is the atmosphere. Everyone is welcoming and generally up for a good time – whether that's on a climbing wall or in a lab. It's such a positive place to be."
Course
Electronic Engineering
"Electronic engineering is changing the world – from the stock exchange to GPS, it's difficult to find an area not affected by it – and this constant change means there'll be challenges for years to come. I like to challenge myself, and my love of maths and physics lends itself perfectly to the challenges of electronic engineering.
Even before coming to Surrey I started running a small business designing and selling circuit boards – something that I've been able to build on since coming to University.
My passion for electronic engineering has also led to me winning an Institution of Engineering and Technology (IET) Diamond Jubilee Scholarship which entitles me to a cash sum for every year of my course, free membership of the IET and placement opportunities with BT, which sponsors my scholarship.
Since starting my degree at Surrey, my favourite aspect of the programme has definitely been the laboratory work. While the theory is interesting, for me, it doesn't quite match up to the feeling of working with your hands, building something in the real world.
I chose to come to Surrey because of its top 5 ranking in all the league tables for electronic engineering, and I certainly haven't been disappointed. The academic staff here are helpful and informative and, most importantly, always willing to lend a hand or discuss something I find interesting. It's an infectious place to learn.
Aside from my programme, I've got involved in plenty of extra-curricular activities. One of the best decisions I've made has been to join clubs that fit my interests. As a result, I've been on several trips with the University of Surrey Mountaineering Club as well as a week-long trip to Andorra with the Snow Sports Society – all experiences I'll remember for years to come. I'm also a member of the orchestra where I play the French horn: playing music with over sixty other people is a great feeling.
The best thing about Surrey is the atmosphere. Everyone here is happy, welcoming and generally up for a good time – whether that's on a climbing wall or in a lab. It's such a positive place to be."
Discover more about our electrical and electronic engineering programmes, including our MEng Electronic Engineering.