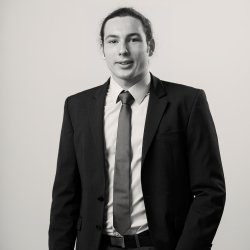 Tobias Sturmhoefel
"The academic staff at Surrey are very helpful. Lecturers are always happy to help with questions related to their teaching."
Course
Business Economics BSc (Hons)
"Surrey's league table rankings, both overall and for my subject, were certainly important in my choice of coming to Surrey. It was important for me know that the quality of teaching would be good, and that my degree would be valued by future employers. The option of doing a placement year also influenced my choice, as I thought it would be great to gain meaningful work experience while I was still studying. Being a campus-based University, I knew Surrey would have lots of facilities and amenities nearby, and the proximity to London made Surrey attractive as well.
Coming from abroad made attending an Open Day difficult, however I visited the University once I had received my offer. A member of staff gave me a tour of the campus and I was able to explore a bit of Guildford to see that it would be a great place to live.
I took economics as a subject in secondary school and enjoyed using an analytical and sometimes mathematical approach to examining real-world issues. I also felt that I would gain very useful analytical skills from an economics degree, even if I later chose to pursue a career in a different field.
One of the favourite parts of my degree has been writing the optional dissertation. While it is certainly hard work, I had a lot of freedom to choose a topic which I was interested in and do independent research in that area. It feels like a great achievement to write an original piece of research and is also good preparation for my future work and studies.
The rest of the degree also has a significant coursework (or midterm test) component. This means work is spread evenly over the semester and that I could use and demonstrate what I had learned in ways other than exams. This made my course more manageable and enjoyable.
"There is someone to help at the University with most issues."
The academic staff at Surrey are very helpful. Lecturers are always happy to help with questions related to their teaching, both online and during their office hours. My personal tutor was very helpful not only for my time at University, but also with thinking about my future career options.
There is someone to help at the University with most issues, whether they are academic, career-, IT- or accommodation-related. While moving to University and starting a career afterwards seem daunting, the staff at Surrey have helped make the whole experience very manageable and enjoyable for me.
I lived on the Stag Hill campus during my first year. Being able to live on campus meant I was close to University and local amenities and made it really easy to meet new people and integrate into the student community; I am still good friends with several of my housemates from University accommodation.
I have been a member of several clubs and societies at University. The mountaineering (climbing) club allowed me to continue my love of climbing when I came to University, and I even had the opportunity to compete for the club at national competitions in my first year.
Some of the societies also gave me the opportunity to volunteer in the local community. As a volunteer first aider with St John Ambulance, I am able to provide first aid services at the Student's Union and many other events in the local community, as well as learning valuable life skills.
"I would highly encourage any student to do a placement year, as it is a great learning experience and very valuable in pursuing a career after university."
I went on a Professional Training placement to Fathom Consulting, a macro and financial markets consultancy in London. My work was quite diverse, ranging from general data organisation to being involved with larger consultancy projects. Working on consultancy projects allowed me to focus in-depth on a particular area and make a meaningful contribution to the outcome of the project.
Besides learning how to use real-world data, and seeing how the theoretical concepts I had learned are applied to current issues, I also learned to manage my time and work in a professional environment. The work was very independent, and I had to largely manage my own time between projects. In some cases, I also had direct client contact which allowed me to develop my professionalism.
My placement was undoubtably one of the highlights of my degree. Not only did I learn a lot during my placement, but I also gained workplace experience and it allowed me to secure a graduate job with my placement company.
I spent the first semester of my second year studying abroad at the University of Hong Kong. I chose to apply for a semester abroad because I thought it would be a convenient way of living abroad to experience a new culture and step out of my comfort zone.
During exchange there is usually a semester break or reading week, which gave me time to travel abroad. This gave me the opportunity to explore a corner of the world which I might not otherwise have had the chance to go to and experience even more new cultures.
My experiences at Surrey have helped me become more focused in what I want to do with my future. I feel like I have a much better plan for what career I want to pursue and where I see myself in several years' time. My placement year was also extremely helpful to that end. The different experiences I have made at Surrey, such as studying abroad and working on placement have also made me more independent."
Learn more about our economics courses, including our BSc Business Economics.