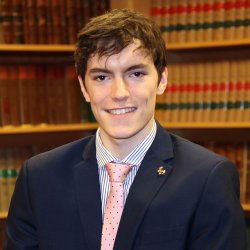 Toby Manhire
"The Law LLB course at Surrey is outstanding. You're guided by experienced lecturers and tutors, many of whom have some form of legal practice or extensive academic backgrounds."
"I didn't choose Surrey initially! I accepted a place at a London university on a different programme, but I couldn't get along with the course and it didn't 'feel' right for me. I started at Surrey after taking a year out, and I haven't looked back since. I loved Surrey from the moment I arrived. From the University, to the people, to the course itself, everything was exactly what I had been looking for. If only I had made the right decision in the first place!
I came to Surrey on an open day and the campus just felt 'right'. The people and the location, for me, were huge factors.
It was the homely feeling of a campus university that really drew me in. There was simply 'something' about Surrey. It's a welcoming community, a close-knit campus, and it's the people you meet, both staff and students, who really make the campus and the University feel like 'home' – somewhere you are happy and eager to spend the best years of your life.
The Law LLB course at Surrey is outstanding. You're guided by experienced lecturers and tutors, many of whom have some form of legal practice or extensive academic backgrounds. I hadn't studied law before I came to Surrey, but I wasn't placed at any disadvantage. The introductory sessions are great for meeting people on the course, as well as easing you into the legal discipline. What follows is a supportive structure over the next three (or four) years, with a dozens points of reference if you ever feel lost in your work, in your own world, or on campus!
The course offers an array of optional modules in your second and final year. The optional modules tailored well towards the career I was hoping for, aligned with my interests and, those modules I chose because I had a natural passion for them I certainly performed best in. Having optional modules also gives you an idea of what to do after you graduate. With all modules, the staff always provide additional reading or materials, if you ever want to delve deeper and it can be extremely useful when it comes to applications and interviews, the staff make sure whether in an essay or an interview, you can always demonstrate you know your stuff.
"The staff are incredible. They're great people, who are always willing to do everything they can to make sure you succeed."
From the Head of School to your programme leader, to your personal tutor and Director of Learning and Teaching, each and every member of staff is personally invested in your success. Being a part of that 'family' in the School does wonders. The facilities are fantastic, and law students enjoy their own study space in the School of Law as well as sharing the University Library.
One of the unique aspects about Surrey is the availability for extra-study programmes and research projects. The Law Society and the School of Law are currently running a 'Street law in Schools' project, allowing students to go into local schools and present on legal topics. I was part of the Sociology/School of Law Joint Enterprise Appeals Project – researching real-life convictions made under joint enterprise law, and assessing whether there was any possibility for an appeal under the new law. The additional projects that the School and the student Law Society provide can give you either a great practical understanding of law or an excellent opportunity to increase your employability and legal skills.
I've been President of the University of Surrey Law Society since May 2017 and I'm just about to pass the torch to my successor. The Law Society is a must for any law student who is seriously considering a career in practice, and being President has been one of the greatest experiences I've ever had. The Society runs legal competitions, to prepare students for real-world legal practice, from mooting (in an appeals court), to client interviewing (as a solicitor) to negotiation and, this year, to mock trial (criminal court trials), the Society does a great deal for law students.
The Society also has external links with organisations that provide the professional training for solicitors or barristers, and it's a great idea to get involved with the Society early to make the most of any benefits. Aside from all the legal training, the professional networking opportunities, the competitions, the workshops, the CV sessions, the career development programmes, the employment opportunities, the pro bono volunteering opportunities, the student mentoring scheme and the Society socials, the Society also hosts an annual law ball. The law ball is a huge black-tie event where students and legal professionals mingle in a half professional/half social atmosphere.
I would say that if any students were genuinely considering practicing in law, its mandatory to join the Society. It has been one of the best experiences of my life and I've got a wealth of legal connections, professional contacts and legal skills as a result of taking part. I cannot say 'get involved' enough!
Guildford is an incredible town with just about anything you'd ever need. Perfect for midday lunch breaks, weekend shopping sprees and late nights out. But what really sells Surrey is the people. The people at Surrey are some of the most welcoming, warm, friendly and supportive (both staff and students!) and I think that's an edge that you will always have with a campus university.
The campus has great facilities – Starbucks, Lakeside coffee shop and Hillside restaurant have always been familiar haunts, and when the sun's out there can be barbecues by the lake, although I burn the first day of summer. So I'm much more at home in winter, and the campus looks picturesque in the snow too.
Of course, there's the Students' Union bar, coffee shop and social space as well – every day, all year, there's somewhere to go and something to do on campus. The Law Society, and every Society, puts on events each week which can range from a pub quiz to a bar crawl, a go-karting day out or a trip to Ascot for the races, and the Students' Union always run regular events to keep you busy.
I've been extremely proud to be President this year (I will make the most of it whilst I've got it!), and that's certainly been a highlight of my experience, but I won't forget the incredible support from the staff, and the friends I've made at Surrey. I have no doubts they'll be cliché 'old university friends' long into the future, and the people I've met in the Law Society will probably become professional colleagues of mine someday. I've made some long-lasting relationships at Surrey and I met my partner here, it has certainly been the home of the 'best years of my life'.
"I knew as soon as I stepped onto campus, that Surrey is where I wanted to be. From that moment Surrey was dedicated to me – making sure I achieve my best but also making sure I enjoy my time here."
Once I graduate, I'm studying the BPTC at the University of Law in September, after which I'll start searching for pupillage and I'm hoping to eventually practice as a barrister in crime. I'm privileged to have been one of a select few who received a Scholarship from The Honourable Society of the Inner Temple, one of the four inns of court, to fund my BPTC - Achieving an Inn of Court scholarship is a sign of great potential: it is the recognition by a qualified and esteemed Scholarship committee, comprised of experienced practitioners, of your raw ability as an advocate.
It is awarded by demonstrating resilience, determination, motivation and drive and high intellectual ability with a good measure of realistic approach and outlook. Academic achievement, articulacy, confidence, integrity and the ability to work under immeasurable pressure are key qualities for any barrister and are essential for scholarship candidates. I certainly could not have achieved it without the support of the staff at Surrey and the same from the people I met whilst studying here. Surrey is dedicated to making sure you achieve your potential, supporting you to reach academic and professional excellence, and I'm well on my way!"
Discover our law courses, including our LLB Law.