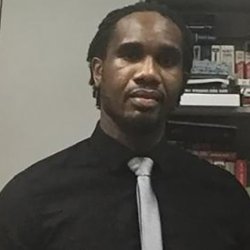 Uche Chukwumerije
"What I've enjoyed most about the course has been the opportunity to apply what I've learnt in my thesis and other assignments."
"From a very young age I've been fascinated with the idea of technological inventions and bringing new ideas to life, and the area that's most interesting to me is communication. People being able to communicate wirelessly from opposite ends of the earth is – and I suspect always will be – an amazing thing to me.
The decision to come to Surrey was an obvious one for me because I'd already seen at first hand the wealth of practical experience the University offers in space technology. In my ongoing role at home in Nigeria with the National Space Research and Development Agency (NASRDA) I was part of a knowledge transfer programme with Surrey Satellite Technology Limited (SSTL) – originally a University of Surrey start-up – which enabled us to build and launch two new satellites (NigeriaSat-2 and NigeriaSat-X). I was particularly impressed by a satellite engineering lecture delivered by the University as part of this programme and – when I decided to further my studies – Surrey was at the top of my shortlist.
For my Masters programme I chose to specialise in Microwave Engineering because it offered the right balance of modules to help me in my work at NASRDA. What I've enjoyed most about the course has been the opportunity to apply what I've learnt in my thesis and other assignments: this aspect of the programme has really pushed me out of my comfort zone and given me confidence. My project supervisor was exceptional in helping me – despite a personal tragedy I suffered at the time – to clearly define the questions I wanted to explore and to stay focused right through to the end. I found the University library and online resources invaluable to me during my studies.
Academically, I definitely achieved what I wanted to from my Masters. Having resumed work at the NASRDA in Nigeria, the tools and abilities I've acquired have been very helpful in the design of new ground stations for ongoing satellite design projects.
However Surrey offered so much more besides. One of the highlights for me was the Sports Park which enabled me to keep up my Taekwondo training, providing a great balance with my studies. I won a gold medal competing for the University of Surrey Taekwondo team and – following my MSc – was even fit enough to gain a place in the Nigerian Taewkondo National team!"
Discover more about our electrical and electronic engineering programmes, including our MSc RF and Microwave Systems Engineering.