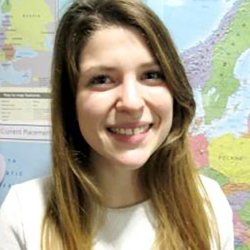 Victoria Sillett
"French culture is something I have always been interested in and the combination with Business Management enables me to pursue a career in the international market."
Course
Business Management and French
Placement company
Messier-Bugatti-Dowty, Paris
"I chose to study Business Management and French because I want to be able to communicate with people from other cultures both professionally and socially. French language and French culture is something I have always been interested in and the combination with business management enables me to pursue a career in the international market.
The course has a 50/50 split between Business Management and French but technically I belong to the school of English and Languages and the support I receive from this department is exceptional. For my dissertation I am focusing on a business subject but writing it in French. This sounds daunting but after nearly three years at this University and a placement year in France, I feel much more confident in my second language.
I spent my third year working for Messier-Bugatti-Dowty, a leader in aeronautical engineering based in Paris. My role in Corporate HR meant that I worked on an international and national level using both my English and French daily. Not only did I set up on-site English lessons for the employees, I also worked on their international Leadership Project where I learnt many business skills including how to conduct research, analyse data and create HR solutions. I have been able to fully apply these skills in my final year whilst doing my dissertation. This project also meant I gave presentations in French which really boosted my language ability and confidence.
I felt a huge amount of satisfaction in being able to draw on the knowledge I had learnt in my degree: I enjoyed putting theory into practice. I also learnt a lot about myself throughout the year and I am now even more focused to secure a graduate scheme because I have a better idea of what I want from a job. Living in Paris was a great opportunity to socialise with French colleagues and I was able to learn how to use French in an informal setting. This experience has given me friends for life.
I was a finalist in the Languages Undergraduate of the Year award where I represented the University of Surrey. I entered to gain experience as I know the application process is very similar to that of a graduate scheme and I wanted to prove to myself that my French had improved. During this process I was able to network with other language undergraduates and also the Head of EU Careers which has resulted in me being appointed the first EU Careers Ambassador for the University of Surrey.  
Studying Business Management and French here at Surrey has been one of the best things that has happened to me. It has set in place the building blocks for both my professional and personal development."
Discover more about our language, communication and translation or business and management programmes, including our BSc Business Management and French.