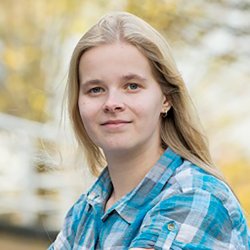 Vilma Wilke
"I spent six months with Airbus and six months at Surrey Satellite Technology Ltd, which gave me the opportunity to compare and contrast two very different working environments."
Course
Electronic Engineering with Space Systems
"Originally from Sweden, I was attracted to Surrey because it offered a course that really interested me. I liked the fact that the University is actively involved in the space industry - not just for research but also for commercial activities – through Surrey Satellite Technology Limited (SSTL) and the Surrey Space Centre (SSC).
I also liked the sound of the placement year, and enrolled on the programme with integrated Professional Training. Since I was looking for a rather specific placement, I did some research and found the placement myself. I was happy to go abroad, having lived in a number of countries before coming to the UK to study, so applied to Airbus in southern Germany.
I ended up spending six months with Airbus and six months at SSTL, which gave me the opportunity to compare and contrast two very different working environments – one a huge global organisation and the other a much smaller UK company. The two companies also handle different portions of the market.
At Airbus I worked on functional verification testing and simulating satellites. I was given a lot of responsibility, and got to programme tools which will help the company in the future. I also learned to communicate effectively, work independently, and fit in with the Airbus company culture which is highly professional with great emphasis placed on confidentiality.
At SSTL my role was similar in some ways. Working in the in-orbit testing department for Galileo (a GPS system of the near future) I was responsible for programming tools to help automate tasks, aimed at saving time and money.
Coming to Surrey has enabled me to pursue my passion. I first became fascinated by space at around the age of seven and have since read everything I can to learn about space and, later, the careers the space industry offers. I'd definitely like to work in the space industry when I finish my studies. My dream job would be to work in space exploration – one of the most inspiring things about being at Surrey is the fascinating research that's going on in this area."
Discover our programmes in Electrical and Electronic Engineering, including our MEng Electronic Engineering with Space Systems.