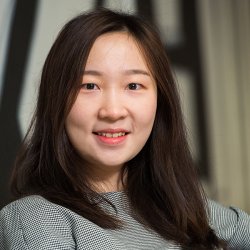 Xiangru Wang
"Surrey provided the opportunity to do a Professional Training placement, international exchange and free language courses, which would add value to my university experience."
Course
Accounting and Finance BSc (Hons)
"I completed A-level studies (equivalent to university entry exam GaoKao in China) at a local college in England. My tutor told me that the University of Surrey had a very good academic reputation in the UK. I did my own research and found out that Surrey was ranked at 4th in the Guardian University Guide at the time, indicating it's excellent teaching quality and high student satisfaction rate. Surrey also provided the opportunity to do a Professional Training placement, international exchange and free Global Graduate Award language courses, which would add more value to my University experience. Moreover, Surrey Business School is accredited by both institutions of AACSB and AMBA, which meant I would be studying at a world-leading business school. All of these were reasons I choose Surrey as my undergraduate destination.
I came to an applicant day before I applied and it offered me the opportunity to explore the University's campus, accommodation and Library. I also had the opportunity to talk with programme leader, current students, and actually felt the culture at Surrey.
The applicant day made me feel that Surrey was a comfortable place to study. Everyone was passionate about their studies and had confidence in their future.
Surrey's BSc Accounting and Finance is an attractive course. Before I choose the course, I looked at the course structure and found out that I will not only study subjects in accounting and finance, but also study subjects such as human resource management, business law, and marketing to gain a wider business understanding.
After two and half years' study, my favourite part of this course is that we are studying up-to-date knowledge and it's very practical. For example, principles of taxation and financial reporting course content reflects the latest regulation changes and how accountants should respond to those changes. Therefore, no matter where I work I can apply what I've learnt to my day-to-day work.
The academic staff on my course are all very helpful, professional and passionate.
Our financial management tutor Dr. Zicheng Lei delivers excellent lectures and provides high-quality lecture notes for us to read before the lecture. During the lecture, he explains complex theory with understandable examples and encourages us to reflect on what has been learnt previously. In tutorial lessons, typically we will solve difficult chapter questions and he always explain answers carefully to ensure all students can understand. Our International Business Strategy tutor, Professor Adcroft always responds to emails in incredible short time. As well as other tutors, I can always find someone to help with my questions.
I live in campus accommodation in a band D room with an independent bathroom. There are seven people living in same flat, so we share a kitchen. All of my flatmates are from different parts of the world, for example Kuwait, Bulgaria, England, Hong Kong and Cyprus, and have different backgrounds - but we get on very well. In our spare time, we will have a flat dinner or go to town and eat out together.
During three years at Surrey I have made lots of friends and embraced different cultures. 
I am a member of the Chinese Society (CSSA Surrey, Chinese Students and Scholars Association). Our society is run purely by students, and our President is a PhD student at Surrey 5G/6GIC. We organise different events for Chinese Students and publish the latest University news in Chinese to help students know what's going on around campus. 
Every moment at Surrey is precious.
I live on campus and wake up every morning with the cathedral bells ringing. The campus is usually peaceful and suitable for study. We basically have everything we need on campus, for example a laundrette, Appleseed bookshop, a post office, a SimplyFresh shop (which even has a range of common Chinese food and cooking sauces), an amazon locker, Rubix bar, and a fresh fruit and vegetable market on every Thursday. For specific needs, walking from campus to Guildford town centre only takes 20 minutes by walking or 5 minutes by bus. Our Library is open 24/7 for us to study, even during the Christmas holidays. I can't find anywhere to live and study more comfortable than our campus. When we have beautiful weather, I'll sit by the lake and play guitar. There are groups of Canadian swans, ducks and geese that play together. I am always inspired when I enjoy the lake scenery. 
My best moment at Surrey so far was when the Chinese Society passed the society standing and was rectified as a part of Students' Union.
After I came to Surrey, I found life could be so wonderful and full of opportunities. Now I am confident doing presentations in front of 300 people, I joined the Taekwondo Society to exercise, I learned how to cook and take care for myself, and I made so many friends all over the world. I took the Global Graduate Award in French, German and Japanese and I am now able to communicate when I go travelling to those countries.
The University of Surrey has helped me to shape my future career and has given me the most precious times in my life. Eventually I will graduate from this lovely place, but I will take the happiness and inspiration into the future. My memories at Surrey will light up my life."
Discover our courses in accounting and finance, including our BSc Accounting and Finance.