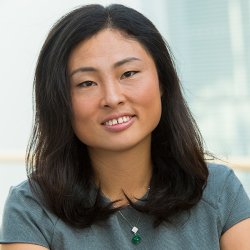 Zheng Li
Account Manager at Filtran LLC, Zheng shares her experiences studying for an MBA at Surrey.
Course
Business Administration
Why did you choose an MBA at Surrey University?
After much research on MBA courses in the UK, Surrey became my first choice very quickly, mainly because of the modules it offered. The field I was working in is dominated by traditional business models, yet business environments around the world are rapidly changing.
I felt that the modules Surrey had to offer would help me to learn how to integrate or adapt these traditional business models within a continuously changing environment, and I was right.
How do you plan to implement what you learnt in class at work?
The Innovation and the Entrepreneur modules were especially beneficial as they have prepared me to return to a traditional industry facing the challenge of adapting.
"I am now confident to return to the workplace in a role that takes on more responsibilities."
What is the most useful skill you have learned during your time on the MBA course so far?
Prior to the MBA, I had always struggled with project management in the workplace, simply because I wasn't speaking the 'language'. Having completed the project management module, I can now confidently express myself in this area and when I return to work, my communication with project managers will be extremely effective.
What new opportunities have you gained being at Surrey?
The Surrey MBA offers much more than just daily school life. For me, the most exciting thing is studying in a diverse environment and developing deep friendships with people from around the world.
Another unique experience Surrey offered is the career and personal development sessions. Our coach has spent huge amounts of time helping us develop both professional and personal skills. Including, how to adapt to group dynamics, working in teams containing people with different cultures and backgrounds, presentation skills, giving and taking feedback effectively, and even giving advice on CV writing. I couldn't have imagined myself developing all these skills within a year before the MBA.
Discover more about our business and management courses, including our MBA Business Administration.