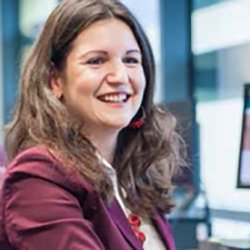 Zsuzsanna Szegedi
My personal tutor was very supportive in helping me find a Professional Training placement – I didn't plan to go into events, but I was intrigued when she showed me the opportunity.
What subject did you study at the University of Surrey and what year did you graduate?
I studied Spanish and Translation and graduated in 2015.
What were the best things about your course?
I loved studying from native speakers and professional translators and interpreters.
Why did you decide to take an Erasmus study/work abroad exchange?
I wanted to have work experience opportunities in Spain, as it is my favourite destination to live.
Where did you go and what did you do on the Erasmus scheme?
I went to Spain, where I worked as an event coordinator at the Hilton Buenavista Toledo. The goal of the placement year in Spanish and Translation is being able to live and work in Spain as if it's your homeland. My placement as an events coordinator at the Hilton Hotel in Toledo, Spain gave me the freedom to grow, both personally and professionally.
I was enrolled at the Hilton University, and by the end of the year I had gained several certificates that now enhance my CV and give me a huge competitive advantage in the hotel industry.
How did your Erasmus experience help you develop personally or professionally during your time as a Surrey student, and has this influenced your choice of career?
This experience made me a fully responsible grown up and showed me the difference between going to campus and to the office... I became more self-aware, independent and self-confident. My Spanish also became fluent.
Because of my experience at Hilton I wanted to go back to the same hotel after graduation, to continue my career in events. However I realised later that even though I loved that hotel and what I did there, I did not choose to be a translator by accident. During my placement at the Hilton I learned to organise successful events, and was able to use my knowledge to translate hotel documents. I widened my professional network on an international level, as well as experiencing a new culture, travelling to new places and making friends.
My placement in Spain gave me the freedom to grow, both personally and professionally.
What do you do now and what do you find most enjoyable about your line of work?
I work at an American cosmetic company as an in house English-Hungarian translator and interpreter. What I find most enjoyable about it is the diversity of texts I have to deal with. I translate everything from the tiniest Facebook posts to compliance related documents and product descriptions including their scientific background.
How can students hoping to work in your profession make the most of their time at Surrey?
Attend classes, take your course seriously and use the Erasmus experience to the fullest.
What advice would you give to current students thinking about a study/work abroad placement?
I would suggest taking a work placement. Employers prefer giving a contract to someone who already has some work experience beside their studies. Your placement year is an essential opportunity to gain valuable skills and professional experience, and it helps you to discover what profession you'd like to go into after graduation.