The Veterinary Health Innovation Engine (vHive)
About us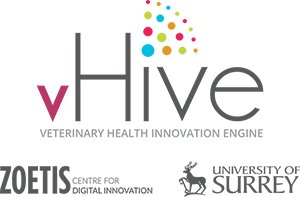 vHive is an innovation hub supported by a co-investment of £8.5 million in resources dedicated to the development and adoption of new digital technologies in animal health.
Situated at the University of Surrey's School of Veterinary Medicine, vHive is made up of both academic and commercial experts who have expertise necessary to carry out new, complex endeavours on behalf of their partners who require academically verified output and bespoke business development.
Unique opportunities for students
We offer a unique opportunity for veterinary students at Surrey (3rd year projects, student interns, PhD students) to train and learn about the animal health commercial sector before graduation. 
Working with the 5G/6G Innovation Centre, the Centre of Digital Economy (CoDE) and the Surrey Business School, our unique ties enable students to gain relevant experience in:
Business modelling
Computer science (front and backend web & app development)
Digital pathology
Wireless communications (animal sensor technology)
System architecture
Supply chain management
Testbeds and building proof-of-concepts.
Aims
We aim to bridge the technology readiness level gap between the world's leaders in animal health and to lead the development and application of transformational digital and data analytics tools to advance the wellbeing of animals for the benefit of society.
We believe that the fourth industrial digital revolution demands response at speed. Acting in ideation, innovation, incubation and adoption, we deliver impact through partnership and the commercialisation of outputs.
Services
vHive is an academic-commercial partnership that combines excellence in animal health, technology and digital business to deliver:
Platform and App Creation
Working in iterative agile development cycles, we develop digital technology platforms and applications that serve a wide variety of user needs, including hardware monitoring devices for animals' wellbeing, data normalisation and reporting platforms, and supply chain management systems.
Business Insights
We utilise state-of-the-art data visualisation techniques to extrapolate business critical insights from multiple streams of data that have direct impacts on research and business activities. Clients come to us to understand possible, probable, and preferable futures in animal health.
Networking in Animal Health
We bring together research organisations, high growth SMEs / start-ups, end user bodies, innovation support bodies and investors to build on the support expertise already within the domain.
Data Storage
We collect and store unique animal health data from wearables , remote sensors, social media, climatology, and multiple third party data streams to create and deliver new evidence for decision-makers .
Research Validation
We provide a link between the university, the external commercial sector to facilitate the development and validation of new and exciting research. The unique vantage point that vHive operates from enables acceleration of ideas, projects and knowledge sharing that leads the way in empirical feedback on commercially relevant research.
Grant Funding Assistance
We write grant applications with our commercial and institutional partners to create meaningful collaborative relationships that position the school at the forefront of emerging technologies, approaches, learning and research.
Workshops
We offer a transformative formula for testing ideas - whether you're at the startup phase or at a large organisation. By signing up to our tailored workshops, you'll move from idea to prototype to decision in one to five days, saving you and your team countless hours and money. Learn more by emailing workshops@vhive.buzz.
Project Management
We deliver initiative management for academic projects from concept (via grant funding and commercial partnerships) through to delivery. Uniquely, we provide both academic and commercial expertise for project development.
Leadership
Led by Professor Alasdair Cook, this exciting initiative has been created with a partnership between the University of Surrey and Zoetis, the largest global animal health company, with the intent of facilitating and bolstering the skills and knowledge of professionals working within animal health.
Professor Alasdair Cook
Professor of Veterinary Epidemiology and Public Health
Alasdair "Alex" Cook is a veterinary epidemiologist with more than 25 years national and international experience in livestock animal health in Government, academic and development environments. His interest in epidemiology grew from working in farm animal veterinary practice in the UK and in preventive veterinary medicine. A decade of overseas experience in Yemen, Zambia an...
Key Projects
The African Livestock Productivity and Health Advancement (ALPHA) Initiative
The ALPHA Initiative was created in May 2017 following award of a $14.4 million, three-year co-funded grant by the Bill & Melinda Gates Foundation to Zoetis lnc, the largest global animal health company.
vHive is responsible for ALPHA data-driven activities including conducting on-farm baseline studies for production and economic parameters, and conduct of follow-up studies following interventions targeting relevant smallholder farmer communities, in close collaboration with the Zoetis Outcomes Research team.
Learn more about the ALPHA initiative. 
Our partners
Work with us
Students and staff at the University of Surrey have the opportunity to engage with industry experts whilst gaining practical experience. vHive has created a hub with a diverse team of academics, project professionals and industry specialists who are eager to enrich the skills and knowledge pool of the school by adding to the diversity of practical knowledge that can be shared within the student experience. Get in touch at UoS@vhive.buzz or stop by the second floor of the Surrey Vet School.
If you own or operate a business and are looking to develop an offer in the animal health sector vHive offers exploratory sessions and workshops to come together and progress it. For information on our fees please email us at UoS@vhive.buzz.
vHive helps with funding paths, access to expertise, and helps articulate the idea and the desired outcome. vHive doesn't then own the idea, but acts as a catalyst for it. Contact us on info@vhive.buzz.

Learn more at the vHive website
vHive is dedicated to the development and adoption of new digital technologies in animal health.
Stay connected
Join the vHive team to learn how to harness the potential of artificial intelligence in veterinary medicine this Th…
https://t.co/ZPEFuIVs8U