University of Surrey Medical School
Surrey's new medical school
We are delighted to be launching our new four-year graduate entry medical programme and will be accepting applications for students starting in spring 2024. Our innovative programme will equip you with the knowledge and skills required to practise medicine in a modern healthcare environment. Throughout your studies, you'll develop essential skills in the application of digital health and technology, and benefit from authentic interprofessional learning.
As an independent medical school, in accordance with government regulations, the majority of places in our initial intake will be for international students. To meet local demand and widen access to a career in medicine we will also be offering a small number of places to UK (Home) students via a separate scholarship scheme.
Register your interest
Sign up to register your interest and receive updates
About the Medical School
The Surrey programme will build on our shared ethos and vision to deliver an innovative and exciting four-year curriculum. As one of only a small number of schools to offer places to graduates from a wide range of disciplines, students will have the opportunity to learn and work alongside those studying on our highly renowned health professions courses and veterinary medicine programme. In addition, our students will benefit from our excellent interdisciplinary research, in human and animal health, as we generate new knowledge, applied to deliver benefit to patients and society.
Students will benefit from our multidisciplinary strengths in education, research and innovation, as well as our immersive simulation and clinical skills facilities. Throughout their studies, our students will also combine an outstanding core learning experience with the benefit of being taught by talented clinicians from our local NHS partners, including:
Founding Dean of the Medical School
Professor Juliet Wright will take up the position of Founding Dean of the Medical School on 25 July 2022, joining the University of Surrey from Brighton and Sussex Medical School. Speaking of her appointment, Professor Wright said:
"This is a tremendous opportunity. I am looking forward to developing a strong team to attract and go on to train our future graduates. It is my belief that medical educators have a great responsibility to harness and develop students, to ensure a happy, sustainable but flexible workforce, of new doctors ready to meet the challenges in health care that the next decades will bring." 
Professor Wright is an alumnus of the University of Surrey, where she was awarded her Doctor of Medicine (MD) for a study investigating recombinant human growth hormone in older patients undergoing elective keen replacement surgery. She has been with the Brighton and Sussex Medical School since 2007, with her most recent position being Director of Undergraduate Teaching and Learning.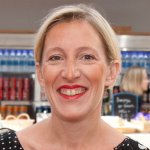 Professor Juliet Wright
Founding Dean of the Medical School (effective from 25 July 2022)
Biography
Professor Juliet Wright graduated from Guy's and St Thomas's Hospitals in 1994 and trained in general and geriatric medicine in the South West Thames region. She was awarded her MD from the University of Surrey for a study investigating recombinant human growth hormone in older patients undergoing elective keen replacement surgery.
Juliet was appointed to Brighton and Sussex Medical School in 2007 and to the position of Director of Undergraduate Teaching and Learning in 2015, leading the school to excellence in student satisfaction with scores in the National Student Survey in excess of 95% over the last seven years. She has been executive sponsor of the BSMS medical school expansion, leading a full curriculum and assessment review to deliver Outcomes for Graduates and the MLA. Juliet led the curriculum development of the Time for Dementia programme, which won five national awards. She has recently been appointed to the Medical School Council MLA AKT Board. She is passionate about the student experience and has been awarded Best Teacher for the whole BSMS course on eight occasions.
Her main research interests focus on medical education and in the assessment of frailty in the elderly HIV population and in older oncology patients. She has supervised six doctorates in medical education in the domains of autism, dementia, frailty, anaesthetics, palliative medicine and preparation for practice. Alongside the clinical team at BSUH she has supported the development of the Silver clinic for older patients with HIV. This innovative service is the first of its type in the UK. Juliet was a co-applicant on a successful NIHR programme development grant investigating how to develop NHS services in order to meet the needs of an ageing population with HIV and has supervised a number of PhDs in this field.
Find out more
Entry Requirements
A minimum of a 2:1 UK BSc honours degree (or equivalent)
A-level (or equivalent) in Biology or a life sciences subject at grade C or above
GCSE (or equivalent) Maths at grade C or above
GCSE English at grade C or above, or IELTS with a score of at least 7.0 overall and at least 7.0 in all components
All offers will be made subject to police record checks and occupational health clearance. Applications cannot be considered from individuals that have previously commenced a medical degree either in the UK or overseas.
Selection Process
Applicants will be required to undertake an aptitude test (UCAT) and values-based interview. Offers made will be based upon the advertised entry criteria.
Who can apply?
International students
The majority of the first intake will be independent international students. Applications will be considered via UCAS. If you register your interest we will keep you updated.
UK students
A small number of places for UK students will be made available via a separate scholarship scheme. The criteria and application process for scholarships will be available on our University website shortly. If you register your interest we will keep you updated.
Successful students will graduate with a Bachelor of Medicine, Bachelor of Surgery degree.
We have begun the detailed process of securing GMC accreditation for the programme.
Once accredited, students that successfully complete the programme will be able to apply to undertake a two-year foundation programme with an acute NHS trust, develop specialist medical skills and ultimately register with the General Medical Council (GMC) to practise as a doctor.
The medical programme will be taught within facilities located in the Faculty of Health and Medical Sciences at the University of Surrey in Guildford. Students will also spend a substantial amount of time on clinical placements with our local NHS Trust partners and community General Practitioner practices.
We anticipate that the first cohort will join the programme in spring 2024.
There will be approximately 40 places available for the first cohort of the new programme.
Discover our state-of-the-art facilities