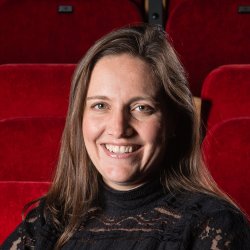 Dr Laura Cull Ó Maoilearca
---
Reader in Theatre and Performance
BA; MA; PhD
About
Biography
Laura Cull Ó Maoilearca is Head of the Department of Theatre & Dance and Senior Lecturer in Theatre Studies.
She is author of 'Theatres of Immanence: Deleuze and the Ethics of Performance' (2012); editor of 'Deleuze and Performance' (2009) and co-editor of 'Encounters in Performance Philosophy' (2014) with Alice Lagaay and 'Manifesto Now! Instructions for Performance, Philosophy, Politics' (2013) with Will Daddario.
She is a founding convener of the professional association, Performance Philosophy (http://www.performancephilosophy.org); joint series editor of the Performance Philosophy book series with Palgrave Macmillan and joint editor of the Performance Philosophy journal launched in 2015.
Research interests
Performance Philosophy; 20th and 21st century experimental theatre and performance - especially Artaud, the Living Theatre, Allan Kaprow, Lygia Clark, Carmelo Bene, Hijikata Tatsumi, Marcus Coates & Goat Island; relationship between performance and Continental philosophy - especially Deleuze and Guattari, Bergson & Laruelle; concepts of authorship, collaboration, collective creation & audience participation in performance; affect; time and duration; nonhuman animals in performance; manifestos; relationship between performance and mental health - particularly schizophrenia.
Research collaborations
Core Convener of the Performance Philosophy network
Joint editor of Performance Philosophy book series, Palgrave Macmillan
Secretary of Performance Studies international (PSi)
Member of Theatre and Performance Research Association (TaPRA)