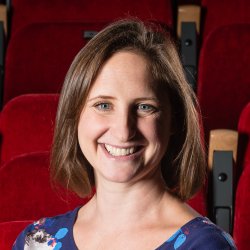 Professor Anna McNamara
---
Director of Learning and Teaching, Professorial Teaching Fellow, GSA
BA MA Ed QTS ATCL AISTD (DDE) PFHEA FRSA
Biography
Anna McNamara is Director of Learning and Teaching at the Guildford School of Acting, University of Surrey.  She trained in Musical Theatre at the Guildford School of Acting before moving into teaching full time in 2001, gaining an MA in Education.  Anna holds teaching qualifications in dance, singing and music, and drama. Anna is a Principal Fellow of the Higher Education Academy and a Fellow of the Royal Society of Arts.  In 2017 she was awarded the University of Surrey Vice Chancellor's award for Teacher of the Year. 
University roles and responsibilities
Director of Learning and Teaching, GSA

Athena Swan Departmental Lead

Member of the Teaching Quality Valuing Teaching Working Group

Member of the University Student Experience Subcommittee

Member of the University Quality and Standards Subcommittee

Faculty Learning and Teaching Committee
My publications
Publications
McNamara, A.
(2021).
'Crisis Management in Higher Education in the Time of Covid-19: The Case of Actor Training' in The Journal for Education Sciences, 11 (3).
View abstract
View full publication
The impact of Covid-19 placed Higher Education leadership in a state of crisis management, where decision making had to be swift and impactful. This research draws on ethea of mindfulness, actor training techniques, referencing high-reliability organisations (HRO). Interviews conducted by the author with three leaders of actor training conservatoires in Higher Education institutions in Australia, the UK and the USA reflect on crisis management actions taken in response to the impact of Covid-19 on their sector, from which high-frequency words are identified and grouped thematically. Reflecting on these high-frequency words and the thematic grouping, a model of mindful leadership is proposed as a positive tool that may enable those in leadership to recognise and respond efficiently to wider structural frailties within Higher Education, with reference to the capacity of leaders to operate with increased mindfulness, enabling a more resilient organisation that unlocks the locus of control. 
McNamara, A.
(2021).
'Flipping the Creative Conservatoire Classroom' in Theatre, Dance and Performance Training, DOI: 10.1080/19443927.2020.1864462.

View abstract
View full publication
This research proposes a pedagogic practice to increase dynamic independent student participation and engagement through the lens of the flipped classroom, promoting the understanding of learning as a cyclical process of the Revised Bloom's Taxonomy. With recommendations that may support hybrid delivery of actor training delivered both face to face and via online platforms, this paper considers the student learning experience of approaching rehearsals when preparing for a role within the UK actor training conservatoire by applying an overview of the methodologies of two key practitioners to this framework. The publications in the English translation of the practitioners Stanislavski and Hagen have been used, to ensure that as authentic a voice as possible is examined.
McNamara, A. and Armstrong, E.
(2021).
'Toward Accessible Actor Training' in the Journal for Drama Research, Volume 11.
View abstract
View full publication
This paper offers a perspective drawn from student staff partnership on accessibility in actor training and education as preparation for and in relation to the creative performance industries.  Drawing from issues of representation, culture and identity are explored, and new aspirational models of access are identified, that may offer a new perspective for academics and practitioners working in actor training settings and conservatoires.  In this paper, we strive to debate this new perspective through a collaborative student staff co-authorship, for both of whom access and identity are key aspects of their professional learning and teaching experiences.   
McNamara, A.
(2021).
'Playful Learning in actor training: the impact of Covid-19 on spontaneity and intuition' in Critical Stages/Scènes critiques, 23.
View abstract
View full publication
The ability to readily access creative imagination is an essential tool for the actor. Games and playful approaches to learning are vital to enable the actors' learning space in both traditional and non-traditional settings. Since 2020, the impact of Covid-19 has necessitated remote learning to facilitate drama and actor training and this has been a beneficial tool in ensuring the continuation of study and engagement. Whilst this utilisation of technology has undoubtedly brought much innovation, this study will consider what has been compromised or even lost in this transfer of activities in actor and drama training. Perspectives are drawn from a practitioner working in a UK based professional training conservatoire at Higher Education level and examines the compensatory allowances that may needed to be made in the creative training process moving beyond the global pandemic
Kinchin, I.M., Derham, C., Foreman, C., McNamara, A. and Querstret, D.
(2021).
'Exploring the salutogenic university: Searching for the triple point for the becoming-caring-teacher through collaborative cartography' in Pedagogika, 141(1).
View abstract
View full publication
This paper offers a perspective on 'care' as a component in the identity of successful university teachers. Previous work has described teaching in the 'Salutogenic University' as a Deleuzian assemblage. Three key lines of flight within this assemblage (care, pedagogic health and salutogenesis) are given further examination here. In combination they may offer a response to hegemonic neoliberal discourses that typically divert academics from enacting their professional values. A 'triple point' has been hypothesised, at which the three lines would be found to co-exist, without border or barriers. In this paper, we seek to uncover the nature of this triple point by conducting in-depth, reflective conversations with four academics for whom 'care' is seen as a central element of their professional identities.
McNamara, A.
(2018).
'The Use of LEGO SERIOUS PLAY to Enable Learning Gain In Professional Actor Training' in The International Journal of Management and Applied Research, Vol. 5, No. 4.
View abstract
View full publication
This reflective paper considers the potential positive and facilitative role of LEGO® SERIOUS PLAY® in the active learning environment, not just as a pedagogic tool to enhance and enable student reflection, but also as a method by which to develop engagement and understanding of learning content, through the case studies of undergraduate Acting students at the Guildford School of Acting.
McNamara, A.
(2018).
'Acting' in Exploring Pedagogic Frailty and Resilience (Ed. I. Kinchin and N. Winstone)
Hanratty, S. and McNamara, A.
(2019).
'Student experience: perspectives on learning in the University and the Conservatoire' in Enhancing student-centred teaching through student-staff research partnerships (Ed.K. Gravett, N. Yakovchuk and I. Kinchin)
Bale, R.
(2020).
Teaching with Confidence in Higher Education: Applying Strategies from the Performing Arts