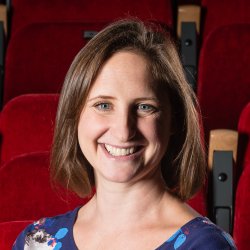 Professor Anna McNamara
---
Director of Internationalisation, Partnerships and Outreach, GSA
BA MA Ed PhD QTS ATCL AISTD (DDE) PFHEA FRSA NTF
About
Biography
Anna McNamara is Director of Internationalisation, Partnerships and Outreach for GSA, previously having been Head of School (Interim), Director of Learning and Teaching and before that Director of Student Experience. She is currently working for the Surrey Institute of Education alongside her GSA role.
Anna has been awarded National Teaching Fellow (NTF) for her sector wide impact and innovation work, is a Principal Fellow of Advance HE (PFHEA) in recognition of her sustained record of effective strategic leadership and is a Fellow of the Royal Society of Arts (FRSA). Anna is also recipient of the University of Surrey Vice Chancellor's award for Teacher of the Year for her innovative work in creating online learning programmes of study and for elevating the student voice. She was named as a finalist for Creative Businesswoman in the Great British Businesswoman Awards 2023.
Anna has published and presented internationally on a range of subjects including leadership and management, crisis-management, acting pedagogies, disability access to the arts and gender empowerment and equity.  Her international innovation and impact projects include her international Be the Change digital conference, and subsequent book Be the Change: Learning and Teaching for the Creative Industries, bringing together thirty five colleagues globally as co-authors. A further international collaborative project on actor training and leadership Actor Trainers on Acting: for the Twenty-First Century is due for publication by Routledge in 2024.  Furthermore, an additional edited volume Inspire: Learning for Teaching in Higher Education is being published by Nova, also in 2024.
Nationally, her fully funded inclusion project supporting over 100 school children and teachers regionally focussed on supporting access for those from backgrounds currently underrepresented in the creative industries training sector, bringing the charity Get Into Theatre into partnership with the Federation of Drama Schools (FDS). This work was further developed through a fully funded partnership with the charity The Mousetrap Foundation through workshops with young people with special educational needs and disabilities. 
As Director of Learning and Teaching for GSA, Anna oversaw school level curriculum redesign and academic periodic review, initiating school-wide steps to decolonise the conservatoire curriculum and formally embed inclusive practice within all programmes of study at GSA, including the formal incorporation of safe spaces and intimacy coordination across all programmes. She also oversaw the redevelopment of all physical and virtual teaching spaces and studios for the school. Anna led on the introduction of the school's mental health training and awareness initiatives with Mental Health England and created the GSA People's Network initiative.  This initiative actively sought to broaden and diversify GSA's staff base, welcoming and encouraging applications from individuals who identify as part of or belonging to communities currently underrepresented in our workforce, as well as enabling formal opportunities for developmental placements, mentorships and internships across the school.
Whilst Director of Student Experience, Anna created the GSA Gillian Lynne Choreography Competition, the GSA Sir Richard Stilgoe Song Writing Competition and the GSA Morag Morris Spoken Word Competition, as well as initiating a formalised whole school student voice system.
An experienced programme leader, Anna has designed, written and created GSA's BA (Hons) Theatre, BA (Hons) Applied and Contemporary Theatre, MA Theatre and MFA Theatre programmes. She has taught on the Foundation Acting, Foundation Musical Theatre, BA Acting, BA Actor Musician, BA Applied and Contemporary Theatre, BA Dance, BA Musical Theatre, BA Theatre, BA Theatre and Performance, MA Creative Practices and Direction, MA Theatre, MFA Acting and MFA Musical Theatre programmes at GSA.
Anna has served on a number of committees at university and faculty level.  At university level she has been a member of Senate, the Teaching Quality and Valuing Teaching working group, the Student Experience Subcommittee, the Student Success Subcommittee, the Quality and Standards Subcommittee, the Student Charter task and finish group, the Nudges Project task and finish group, the Quality Curriculum Management task and finish group, and the university Curriculum Design Review advisory groups for Wellbeing and for Assessment.  At faculty level she has served on the FASS Executive Board, the FASS Learning and Teaching Committee/Education Forum, the FASS International Engagement Committee and the FASS Student & Staff Exchange Committee.
Anna has chaired numerous validation panels and been a panelist on periodic review and enhancement panels for programmes across the university and for other institutions nationally.  She is also an experienced external examiner and external reviewer, having worked in a range of roles with Royal Birmingham Conservatoire, University of the Arts Bournemouth, University Centre Colchester and Goldsmiths, University of London.
Beyond HE, Anna is a qualified school teacher holding Qualified Teacher Status (QTS) and has worked in the state and independent sectors in mainstream and specialist school settings extensively, as well as teaching drama, dance and music in Spain, Italy, Germany and Greece.  She has been an examiner for GCSE Drama, and a professional advisor for the Trinity College London examination performance syllabi.
Anna trained in Musical Theatre at the Guildford School of Acting before moving into teaching, gaining an MA in Education and a PhD in Contemporary Actor Training.  As a performer she appeared professionally in numerous commercials, voiceovers, photographic shoots, pantomimes, concerts, cabarets and galas.  As a freelance teacher, she worked with many drama schools, as well as part-time training providers prior to joining the GSA faculty in 2011. She has produced, directed, choreographed and provided movement direction professionally and enjoyed a long association with the Battersea Arts Centre (BAC). 
University roles and responsibilities
Director of Internationalisation, Partnerships and Outreach
My qualifications
Masters Degree in Education
BA Theatre Studies
Rose Bruford College
Diploma in Dance Education (DDE) Modern Theatre Dance
ISTD
Associate of Trinity College London (ATCL) Principles of Instrumental and Vocal Teaching
Trinity College London
Qualified Teacher Status (QTS)
University of Gloucestershire
Previous roles
2021 -
2022
Head of School
Guildford School of Acting
2016 -
2021
Director of Learning and Teaching
Guildford School of Acting
2015 -
2016
Director of Student Experience
Guildford School of Acting
2018 -
2019
Programme Leader MA Theatre
Guildford School of Acting
2012 -
2018
Programme leader BA (Hons) Theatre
Guildford School of Acting
2011 -
2014
Course lead Foundation Acting
Guildford School of Acting
Supervision
Postgraduate research supervision
Ruoyi Yan 颜若依, Teaching acting through song in the musical theatre conservatoire: An interdisciplinary and intercultural pedagogy
Completed postgraduate research projects I have supervised
Wen-Chi Chu 朱雯琪, Body as Metaphor: Anthropology and Phenomenology of Non-Anatomical Body Movement in the British Context
Teaching
As an award winning teacher, Anna has taught across all levels of education from primary school settings all the way through to PhD level, specialising in Acting, Performance, Theatre, Dance, Singing and Pedagogy.
At GSA she has taught on the Foundation Acting and Musical Theatre programmes, the BA (Hons) Acting, Actor-Musician, Applied and Contemporary Theatre, Dance, Musical Theatre, Theatre and Theatre and Performance programmes, as well as on the MA Theatre and MFA Acting and Musical Theatre programmes and is a supervisor for PhD Theatre and Dance candidates.
For the Surrey Institute of Education, Anna teaches on the Post Graduate Certificate in Learning and Teaching in Higher Education and the MA in Higher Education.