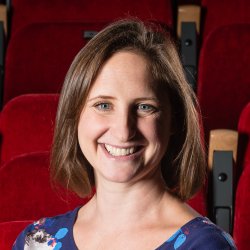 Professor Anna McNamara
---
Head of School, Director of Internationalisation, Professorial Teaching Fellow, GSA
BA MA Ed QTS ATCL AISTD (DDE) PFHEA FRSA
Biography
Anna McNamara is Head of School and Director of Internationalisation for GSA, previously having been Director of Learning and Teaching and before that Director of Student Experience. As Director of Learning and Teaching she oversaw school level curriculum redesign and academic periodic review, initiating school-wide steps to decolonise the conservatoire curriculum and formally embed inclusive practice within all programmes of study at GSA, including the formal incorporation of safe spaces and intimacy coordination across all programmes.  Anna led on the introduction of the school's mental health training and awareness initiatives and is a qualified Mental Health First Aid Instructor with Mental Health England. Whilst Director of Student Experience, Anna created the GSA Gillian Lynne Choreography Competition, the GSA Sir Richard Stilgoe Song Writing Competition and the GSA Morag Morris Spoken Word Competition, as well as initiating a formalised whole school student voice system of weekly minuted year group meetings. An experienced programme leader, Anna has designed, written and created GSA's BA (Hons) Theatre, BA (Hons) Applied and Contemporary Theatre, MA Theatre and MFA Theatre programmes.
Anna has served on a number of committees at university and faculty level.  At university level she has been a member of the Teaching Quality and Valuing Teaching working group, the Student Experience Subcommittee, the Student Success Subcommittee, the Quality and Standards Subcommittee, the Student Charter task and finish group, the Nudges Project task and finish group, and the Curriculum Design Review advisory groups for Wellbeing and for Assessment.  At faculty level she has served on the Faculty Executive Board, the Learning and Teaching Committee/Education Forum and the Quality Curriculum Management task and finish group. Anna has chaired validation panels and been a panellist on periodic review and enhancement panels for programmes across the university.
She trained in Musical Theatre at the Guildford School of Acting before moving into teaching full time in 2001, gaining an MA in Education.  As a performer she appeared professionally in numerous commercials, voiceovers, photographic shoots, pantomimes, concerts, cabarets and galas.  She has produced, directed, choreographed and provided movement direction and enjoyed a long association with the Battersea Arts Centre (BAC). Anna is researching a PhD in acting pedagogies and holds teaching qualifications in dance, drama, and singing and music. She is a Fellow of the Royal Society of Arts (FRSA) and a Principal Fellow of the Higher Education Academy/Advance HE (PFHEA) in recognition of her sustained record of effective strategic leadership in academic practice and academic development as a key contribution to high quality student learning. She also serves as an assessor for the Advance HE Collaborative Award for Teaching Excellence (CATE). In 2017 Anna was awarded the University of Surrey Vice Chancellor's award for Teacher of the Year for her innovative work in creating the school's online learning undergraduate programme of study and for elevating the student voice at GSA. In 2021 she was conferred with the academic title Professor.
Anna has a strong interest in pedagogic scholarship, with particular focus given to inclusion, access and participation to and within professional training for the creative industries at Higher Education. She has published and presented internationally on a range of subjects including leadership and management, crisis-management, acting pedagogies, disability access to the arts, gender empowerment and equity, care in the curriculum and teaching, student experience, and change making. Research topics published within acting pedagogies include play, flipped learning and student-staff partnerships.  Anna has presented regularly at the annual Surrey Excites conference, at the inaugural Oracy conference hosted by the University of Surrey in conjunction with Cambridge University in 2018, and at the Change Agents Network (CAN) conference in 2019. In 2021 Anna created and led GSA's international Be the Change digital conference, subsequently editing the book Be the Change: Learning and Teaching for the Creative Industries, bringing together thirty five colleagues globally as co-authors, due for publication in 2022. In 2022 she will be following this project with another global endeavour through a student-staff partnership project themed on student and staff experience and care in the creative curriculum.
Anna is interested in working with creative practitioners to develop teaching and scholarship opportunities and has mentored colleagues via the Advance HE Aurora network, through the University of Surrey mentoring scheme, also successfully mentoring applicants for Fellowship and Senior Fellowship with AdvanceHE via the Surrey Excellence in Teaching (SET) framework, as well as within GSA and for other UK conservatoires.  Anna created the GSA People's Network initiative, actively seeking to broaden and diversify GSA's staff base, welcoming and encouraging applications from individuals who identify as part of or belonging to communities currently underrepresented in our workforce, as well as enabling formal opportunities for developmental placements, mentorships and internships across the school from 2022. Also in 2022 Anna will be leading a fully funded project that seeks to facilitate mentoring and development opportunities for teachers and young people in diverse geographical locations by enabling knowledge exchange, levelling up and upskilling opportunities from HE, industry and GSA alumni through the development of free to access formal and informal networks via workshops and development courses, as well via research dissemination at the end of the project.
University roles and responsibilities
Director of Internationalisation
My qualifications
Masters Degree in Education
BA Theatre Studies
Rose Bruford College
Diploma in Dance Education (DDE) Modern Theatre Dance
ISTD
Associate of Trinity College London (ATCL) Principles of Instrumental and Vocal Teaching
Trinity College London
Qualified Teacher Status (QTS)
University of Gloucestershire
Mental Health First Aid Instructor Member
Mental Health First Aid England
Previous roles
2016 -
2021
Director of Learning and Teaching
Guildford School of Acting
2015 -
2016
Director of Student Experience
Guildford School of Acting
2018 -
2019
Programme Leader MA Theatre
Guildford School of Acting
2012 -
2018
Programme leader BA (Hons) Theatre
Guildford School of Acting
2011 -
2014
Course lead Foundation Acting
Guildford School of Acting
Supervision
Postgraduate research supervision
Musical Theatre Pedagogies
Dance Anthropology
My teaching
As an award winning teacher, Anna has taught across all levels of education from primary school settings all the way through to PhD level, specialising in Acting, Performance, Theatre, Dance, Singing and Pedagogy. She has been an examiner for GCSE Drama, an external examiner for BA (Hons) Acting and BA (Hons) Musical Theatre programmes and a professional advisor for BA (Hons) Acting programmes and the Trinity College London examination performance syllabi.
At GSA she has taught on the Foundation Acting and Musical Theatre programmes, the BA (Hons) Acting, Actor-Musician, Applied and Contemporary Theatre, Dance, Musical Theatre, Theatre and Theatre and Performance programmes, as well as on the MA Theatre and MFA Acting and Musical Theatre programmes and is a supervisor for PhD Theatre and Dance candidates.
My publications
Publications
McNamara, A. (Ed)
(2022).
Be the Change: Learning and Teaching for the Creative Industries, Nova Publishing, New York
View abstract
considers what change needs to look like within performance training and what we can do to create it. Each chapter captures insights from performing arts industry and educational experts, with reflections from high profile actors and practitioners. The focus is on action, not talk, seeking to provide those teaching, facilitating and leading performance training with ideas and practical steps to work differently, to create the change we want to see. This book considers the training provider's role in increasing representation and inclusivity, looking forward to a sustainable and resilient future. Whilst efforts to broaden access have had some success, for too long, people have felt excluded from audiences and from careers in the industry. Enabling future practitioners includes care of well-being, facilitating structured approaches to intimate scenes and adopting sustainable practices. International perspectives are captured to consider global systemic change, focussing on the core question: what next?
Be The Change: Learning and Teaching for the Creative Industries
McNamara, A.
(2021).
'Crisis Management in Higher Education in the Time of Covid-19: The Case of Actor Training' in The Journal for Education Sciences, 11 (3).
View abstract
View full publication
The impact of Covid-19 placed Higher Education leadership in a state of crisis management, where decision making had to be swift and impactful. This research draws on ethea of mindfulness, actor training techniques, referencing high-reliability organisations (HRO). Interviews conducted by the author with three leaders of actor training conservatoires in Higher Education institutions in Australia, the UK and the USA reflect on crisis management actions taken in response to the impact of Covid-19 on their sector, from which high-frequency words are identified and grouped thematically. Reflecting on these high-frequency words and the thematic grouping, a model of mindful leadership is proposed as a positive tool that may enable those in leadership to recognise and respond efficiently to wider structural frailties within Higher Education, with reference to the capacity of leaders to operate with increased mindfulness, enabling a more resilient organisation that unlocks the locus of control. 
McNamara, A.
(2021).
'Flipping the Creative Conservatoire Classroom' in Theatre, Dance and Performance Training, 12, (4).DOI: 10.1080/19443927.2020.1864462.

View abstract
View full publication
This research proposes a pedagogic practice to increase dynamic independent student participation and engagement through the lens of the flipped classroom, promoting the understanding of learning as a cyclical process of the Revised Bloom's Taxonomy. With recommendations that may support hybrid delivery of actor training delivered both face to face and via online platforms, this paper considers the student learning experience of approaching rehearsals when preparing for a role within the UK actor training conservatoire by applying an overview of the methodologies of two key practitioners to this framework. The publications in the English translation of the practitioners Stanislavski and Hagen have been used, to ensure that as authentic a voice as possible is examined.
McNamara, A. and Armstrong, E.
(2021).
'Toward Accessible Actor Training' in the Journal for Drama Research, Volume 11.
View abstract
View full publication
This paper offers a perspective drawn from student staff partnership on accessibility in actor training and education as preparation for and in relation to the creative performance industries.  Drawing from issues of representation, culture and identity are explored, and new aspirational models of access are identified, that may offer a new perspective for academics and practitioners working in actor training settings and conservatoires.  In this paper, we strive to debate this new perspective through a collaborative student staff co-authorship, for both of whom access and identity are key aspects of their professional learning and teaching experiences.   
McNamara, A.
(2021).
'Playful Learning in actor training: the impact of Covid-19 on spontaneity and intuition' in Critical Stages/Scènes critiques, 23.
View abstract
View full publication
The ability to readily access creative imagination is an essential tool for the actor. Games and playful approaches to learning are vital to enable the actors' learning space in both traditional and non-traditional settings. Since 2020, the impact of Covid-19 has necessitated remote learning to facilitate drama and actor training and this has been a beneficial tool in ensuring the continuation of study and engagement. Whilst this utilisation of technology has undoubtedly brought much innovation, this study will consider what has been compromised or even lost in this transfer of activities in actor and drama training. Perspectives are drawn from a practitioner working in a UK based professional training conservatoire at Higher Education level and examines the compensatory allowances that may needed to be made in the creative training process moving beyond the global pandemic
Kinchin, I.M., Derham, C., Foreman, C., McNamara, A. and Querstret, D.
(2021).
'Exploring the salutogenic university: Searching for the triple point for the becoming-caring-teacher through collaborative cartography' in Pedagogika, 141(1).
View abstract
View full publication
This paper offers a perspective on 'care' as a component in the identity of successful university teachers. Previous work has described teaching in the 'Salutogenic University' as a Deleuzian assemblage. Three key lines of flight within this assemblage (care, pedagogic health and salutogenesis) are given further examination here. In combination they may offer a response to hegemonic neoliberal discourses that typically divert academics from enacting their professional values. A 'triple point' has been hypothesised, at which the three lines would be found to co-exist, without border or barriers. In this paper, we seek to uncover the nature of this triple point by conducting in-depth, reflective conversations with four academics for whom 'care' is seen as a central element of their professional identities.
McNamara, A.
(2018).
'The Use of LEGO SERIOUS PLAY to Enable Learning Gain In Professional Actor Training' in The International Journal of Management and Applied Research, Vol. 5, No. 4.
View abstract
View full publication
This reflective paper considers the potential positive and facilitative role of LEGO® SERIOUS PLAY® in the active learning environment, not just as a pedagogic tool to enhance and enable student reflection, but also as a method by which to develop engagement and understanding of learning content, through the case studies of undergraduate Acting students at the Guildford School of Acting.
McNamara, A.
(2018).
'Acting' in Exploring Pedagogic Frailty and Resilience (Ed. I. Kinchin and N. Winstone)
Hanratty, S. and McNamara, A.
(2019).
'Student experience: perspectives on learning in the University and the Conservatoire' in Enhancing student-centred teaching through student-staff research partnerships (Ed.K. Gravett, N. Yakovchuk and I. Kinchin)
Bale, R.
(2020).
Teaching with Confidence in Higher Education: Applying Strategies from the Performing Arts