Clearing and Adjustment 2018
Clearing is another opportunity for you to secure your place at the University of Surrey. We have places available on many of our courses, see the full listing below. 
If you'd like some extra advice about Clearing, read our top tips for Clearing, find out what our students have to say and guidance on choosing a course: "Clearing is by no means the end of the road, it's just a stepping stone to the best years of your life!
Call us on 16 August when the lines open at 7am.
---
An inspiring community
The University of Surrey is a leading UK university. Study with us and you could find yourself debating with top researchers, working with real businesses and learning with a diverse student community.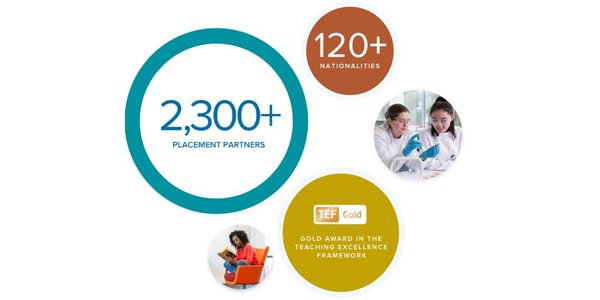 ---
Clearing and Adjustment with us
If you don't have any offers or didn't get the grades you were expecting – either higher or lower – then this is a fantastic way to get into university.
You can enter Clearing if you've already applied through UCAS and you do not hold any offers.
You'll know you're in Clearing if your UCAS Track status says 'You are in Clearing' or 'Clearing has started'.
How to apply
View the courses available below.
When you find a suitable course, call the Clearing hotline. Please make sure you have all your qualifications to hand, including your GCSE results.
If we can accept you, we'll let you know during the conversation. You'll then receive formal confirmation via email.
Once you've spoken to us, you need to refer yourself to the University via your UCAS Track.
Click 'Add Clearing choice' and fill in the course details before the deadline you were given in your email and refer yourself. This counts as you firmly accepting the offer.
We'll formally confirm your place and you'll receive official confirmation from UCAS and see it on your UCAS track.
I've not applied to university yet – can I go through Clearing?
If you've not yet applied to university, you can complete a UCAS application until 21 September.
If you applied after 30 June, you'll automatically be entered into Clearing, so you shouldn't fill in any choices on your application.
To apply for a place at Surrey through Clearing call us from 7am on 16 August.
If you've had a firm conditional choice accepted, but you've done better in your exams than expected, Adjustment offers you a chance to reconsider where and what to study, and potentially secure a place on another course you prefer.
How to apply
Make sure you're registered for Adjustment.
View available courses below.
To apply for a place call us on the Clearing hotline – the phone number will go live at 7am on 16 August.
Tell us you're applying through Adjustment and give us your UCAS ID (please note that we won't be able to see your application unless you've registered for Adjustment with UCAS).
We'll check you've met and exceeded your conditions of your firm choice (remember, if you contact us on results day there could be a short delay while your application is updated).
If we can offer you a place and you decide to accept, we'll advise you verbally and formally accept you through UCAS.
You'll then be able to view this on your UCAS Track and will receive confirmation from UCAS.
How to register for Adjustment
Click 'Register for Adjustment' on the choices screen in in UCAS Track – remember, you need to have met and exceeded the conditions of your firm choice.
If originally you only applied for one course (for the reduced fee of £13) you'll have to pay an additional £11 to be able to apply to multiple courses.
Your original unconditional firm (UF) choice will be safe if you try Adjustment. If you don't find anything you'll only lose your place if you confirm you'd like to go elsewhere and the new university/college adds itself to your application.
How long is Adjustment open?
Adjustment is available between 16 and 31 August.
You only have five 24-hour periods (including weekends) within this time to take advantage of Adjustment, starting from when your conditional firm (CF) offer changes to unconditional firm (UF), or on A-level results day – whichever is the latter. 
Find out more on the UCAS website.
If you hold a conditional firm or insurance place with the University of Surrey, you can find out if your place has been confirmed via:
Once we've received your results, we'll also send you an email or a text message to advise you of our decision. 
My UCAS Track hasn't updated
If you've not received any communication from us, or your place is still showing as conditional on UCAS Track or Surrey Self Service, please:
Contact us via our live chat facility.
We will be available on Thursday 16 August from 7am to 6pm.
Are you waiting for GCSE results or to meet other conditions?
If your offer is conditional on GCSE results, these will not be released until 23 August. You should upload these to Surrey Self Service as soon as you receive them.
If you're waiting on other exam results or conditions, these may also be published at a later date. It is important that you upload these to Surrey Self Service as soon as you receive them so that we can make a decision about your place.
A-Z of available courses
A
B
C
D
E
F
I
L
M
N
O
P
S
T
V