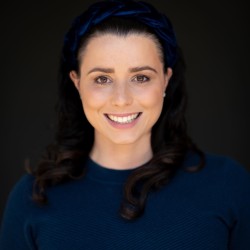 Georgia Bowers
---
Lecturer & Course Leader Applied and Contemporary Theatre (GSA)
MA, BA (hons)
About
Georgia Bowers is an applied theatre practitioner, theatre maker, producer and educator. Her professional engagements include the Royal Opera House, Chichester Festival Theatre, Brighton People's Theatre, Spare Tyre, Young Carers: Bucks, London Bubble, Hampstead Theatre, Almeida Theatre, Centre Point, Watford Palace Theatre and Theatre Royal Windsor. 
Georgia's applied theatre practice and research examines how theatre with older adults can be used as a tool to combat ageism, negotiate ageist induced shame and encourage shame resilience. Her artistic work occurs in care homes, day centres, sheltered housing accomidation, hospitals and via online video platforms. Her practice and research has been shared throughout North America and Europe. 
Georgia is a graduate of the University of Chichester (BA Hons, Performing Arts and Music) and the Royal Central School of Speech and Drama (MA Applied Theatre: Drama in the Community and Drama Education). She is currently undertaking her PhD at the University of Portsmouth, where her research is examining the impact of applied theatre with older adults in England.
Before joining the Guildford School of Acting, University of Surrey, Georgia taught at the University of Chichester and the University of Portsmouth. She currently serves as a member of the Portsmouth Dementia Action Alliance and is a trustee of London Bubble Theatre Company. Georgia is also the Focus Group Representative for the Association for Theatre in Higher Education: Wellness, Community and Ageing Focus Group (North America). 
University roles and responsibilities
Course Leader: Applied and Contemporary Theatre
Research

Research interests

Georgia's research draws upon the arts, humanities, sociology, psychology and gerontology to examine the impact of theatre and creativity in later life. Georgia's studies has a particular interest in how applied theatre can be used to combat ageism, reduce ageist induced shame and encourage shame resilience among older adults. 

Georgia's research interests include:

Creative Ageing

Applied Theatre and Older Adults 

Ageing Studies

Ageing and Shame

Arts and Health

Arts and Wellbeing
Publications
Highlights
"How COVID-19 & UK Government Policy Shaped the New World of Applied Theatre in British Care Homes", Research in Drama Education: The Journal of Applied Theatre and Performance, 2022,  https://doi.org/10.1080/13569783.2022.2052831