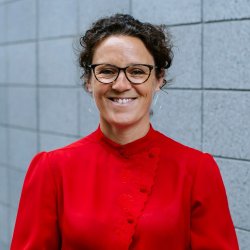 Dr Catherine McNamara
---
Head of Guildford School of Acting (GSA)
School/ Head's Assistant: Sue Smith
Biography
An academic from a professional background in Applied Theatre and Drama Education, I am Head of GSA at the University of Surrey. I have a key role in ensuring that students have a high quality experience at the institution as they move towards careers in the creative and cultural sector. My work as Head of School involves overseeing the strategic and operational work that our 50+ staff and 650 students are undertaking within and outside of the University. 
After graduation, I did an MA in Drama and Theatre at Royal Holloway, University of London and a PGCE Drama at Central School of Speech and Drama. After several years teaching A Level and BTEC theatre and performance courses in Further Education and doing some teaching at Royal Holloway, I joined Central in 2003 as a Lecturer on the PGCE Drama programme. While there, I held various roles including Course Leader of the MA Applied Theatre (Drama in the Community & Drama Education) and latterly, Director of Learning, Teaching & Student Experience.  I worked at the University of Portsmouth 2019 - 2022 as Head of School (Art, Design and Performance) within the Faculty of Creative and Cultural Industries.
I was recently a project partner in the Wellcome Trust funded 'Rethinking Sexology' project based at the University of Exeter. I am contributing to the Transformations: Encountering Gender and Science Public Engagement project. I also lead the TransActing project which is a collaboration with The Royal Central School of Speech and Drama and Gendered Intelligence. I am the Project Lead for an Innovation project working in partnership with Active Communities Network to create a safeguarding tool for use in raising awareness of Child Criminal Exploitation. 
I am a co-founder of Gendered Intelligence, an organisation that works to improve the lives of trans, non-binary and gender diverse people. Inclusivity is a core principle in my work. I am a member of the Board for the New Theatre Royal, Portsmouth and a member of the Surrey Cultural Partnership.
University roles and responsibilities
Head of Guildford School of Acting
Research
Research interests
My work has included practice research into the benefits of voice workshops for transgender communities, a collaborative play-writing project run in conjunction with Fringe Benefits Theatre Company (Los Angeles, US), which led to a performance and workshop being delivered nationally (2008-2011), INTERarts, an intergenerational arts project with Lesbian, Gay, Bisexual, Trans and Queer identified people and more recently the TransActing project, a collaboration between the Royal Central School of Speech and Drama, My Genderation and Gendered Intelligence.
My work usually involves engagement with community participants as a significant element. My work was the focus of an Impact Case Study in REF2014 for example. The research I undertake informs and is informed by my arts practice with a wide range of collaborators and participants.   
Recent publications include 'Methods and Approaches for Working with Trans, Non-binary and Gender Diverse Young People in the UK' in The Handbook of Youth Work Practice, Eds. Pam Alldred, Fiona Cullen et al, London: SAGE (2018) and 'A Complex Matrix of Identities: Working Intergenerationally with LGBTQ people' in Minding the Knowledge Gap, eds. Sue Westwood and Andrew King, London: Routledge (2018).