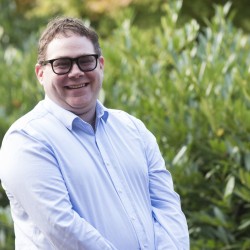 Dr Michael Smalley
---
Senior Lecturer in Theatre Production
BA (Distinction), MA, PhD
About
Biography
I am a theatre maker, educator, and researcher. My professional practice has mainly involved stage management and directing in Australia, the UK, and Canada. I have been involved in higher education of technical theatre artists since 2000. My research interests involve scenography and critical pedagogy. My PhD explored the scenography of stage management and is in the process of being turned into 'Stage Management: Communication Design as Scenography' for the Readings in Theatre Practice series.  
Areas of specialism
scenography;
stage management;
distributed cognition;
relational semiotics
University roles and responsibilities
Programme Leader MA (Stage and Production Management)

Personal Mentor (Level 7 TTA Students)
Affiliations and memberships
IFTR - scenography working group member
Research

Research interests

My research interests revolve around scenography, its pedagogy, its connection with audiences, and its praxis. I am also interested in each of these components in their own right and the implicated theories and research methodologies.

I would be keen to supervise research projects in any of these fields. My skillset and experience would be particularly suited to support students pursuing practice-as-research, ethnography (including autoethnography), or interview methodologies exploring critical and creative aspects of what are normally regarded as technical pursuits.
Teaching
I teach across both the BA (Theatre Production) and MA (Stage and Production Management) Programmes.
I am the Module Leader for:
PRO1034 - Production Design
PRO2032 - Foundation Show Roles
PRO3022 - Final Show Roles
PROM002 - Production 2 / Placement 
Publications
Depending upon whether you are thinking of the Borg from 'Star Trek' or the Vogon from the 'Hitchhiker's Guide to the Galaxy', the old saying goes 'Resistance is futile/useless'. Sometimes it is best to adapt, revise, regroup, move, bend, or change rather than resist. To remain relevant, vital and strong resilience is important. Resilience enables us to hang in there, to recover quickly, to rebuild and thrive. Sometimes the focus of our art/research/educational practices/sector is building resilience in others. Sometimes it is important to focus on building resilience within ourselves as individuals or in our communities of practice. Resilience implies a source of compression, a passage of time, and a process (or an innate ability) to spring back to a (positive) "normal" state.