Student experience strategy
At the University of Surrey, we want you to make memories that last a lifetime, learn to see things differently and be proud to call yourself a Surrey graduate. We want you to feel creative, innovative and comfortable, making the most of a safe, supportive and healthy learning and living environment. We want you to succeed.
Student experience strategy
Life-changing learning
Each year the University welcomes new and continuing students on their learning journey at a transformational point in their lives. We know that as individuals you hold the strengths, skills and ability to succeed and we're all here to help you get the most from your time here at Surrey.
Our new student experience strategy outlines our values and approach to working together, through our academic community and professional services, to ensure we achieve shared ambitions in all areas.
Our vision
An educational journey where everyone can thrive together is at the heart of all we do. Everything we do at the University of Surrey is centred on four principles, each advancing our commitment to transforming your student experience. We create every action, every project, every plan and every decision with these principles in mind.
Learning
We will provide a learning experience which, through investment in facilities, learning resources and expert support staff, inspires learning, embraces difference and maximises opportunity for you to achieve your academic potential.
Support
We will prioritise student wellbeing and offer a personalised student support experience, embracing our duty of care and bridging the transition into higher education, so we can help ensure the success of our students.
Community
We will support living and lifestyle experiences which, through provision of both on-campus and off-campus facilities and services, can help build your confidence, independence and identity, as well as encourage a healthy and balanced lifestyle.
Living
We will champion social experiences that are rich and fulfilling, reflect the diversity and vibrancy of the University community, provide you with opportunities for connection and help you feel at home here.
We have well-developed holistic support in place to ensure a student-centred, vibrant and inclusive community. We are here for you every step of the way – let's succeed together as one Surrey community.
Lucy Evans, Chief Student Officer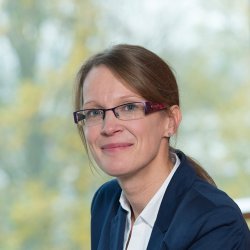 Student experience strategy