---
press release
5G Innovation Centre and Digital Greenwich form partnership to create pioneering smart city technology
The University of Surrey's 5G Innovation Centre (5GIC) and Digital Greenwich, part of the Royal Borough of Greenwich, have today announced a ground-breaking partnership that will deliver the technology that will underpin future smart cities.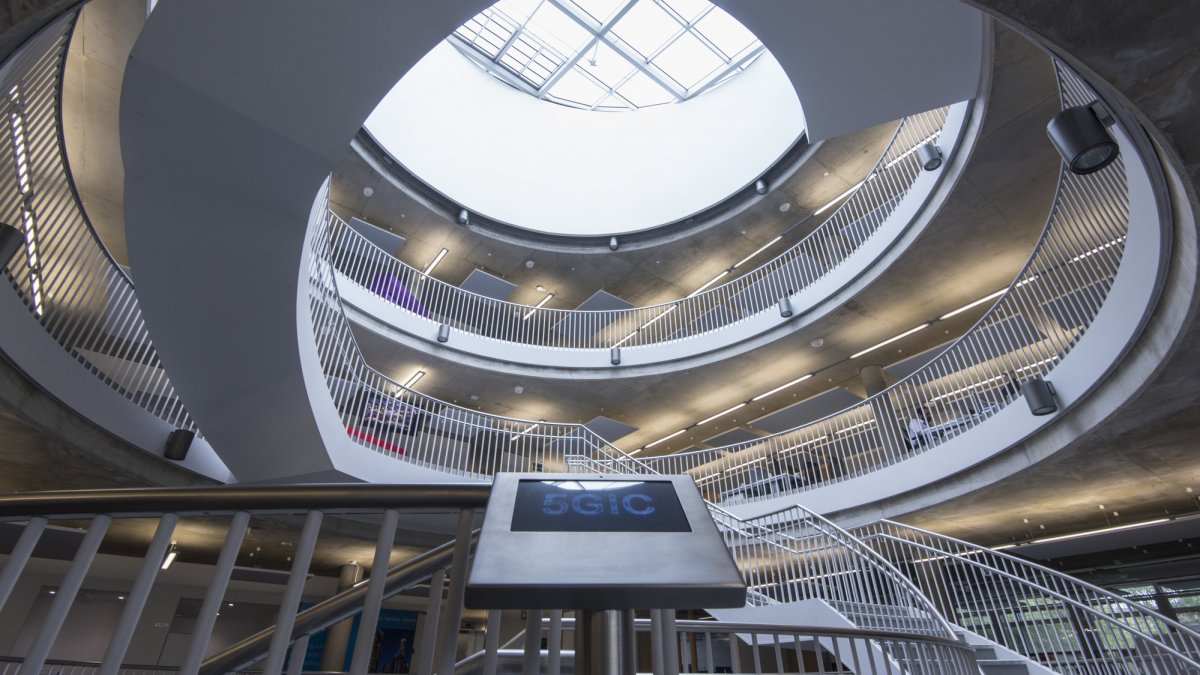 The partnership leverages world-class 5GIC research and innovation, and will provide the foundation for next generation digital technology, standards and services in a Smart city context
University of Surrey's 5G Innovation Centre (5GIC) will provide the technological foundations on which Digital Greenwich can build test beds and trials leading to commercial Smart City solutions
Digital Greenwich will host a 5G Smart City Incubator space for innovators and entrepreneurs to work on new technology that will link transport, mobility, logistics, energy, healthcare and education
The partnership will leverage the facilities and expertise at both the University of Surrey in Guildford and Greenwich to deliver "Smart" resource-efficient, low-carbon, healthy and liveable neighbourhoods within a city. The 5G standardised approach will provide the opportunity to scale solutions at wider city and national level.
The 5G Innovation Centre (5GIC) at the University of Surrey is now the largest European research centre dedicated to the development of the next generation of mobile and wireless communications. Bringing together leading academic expertise and key industry partners in a shared vision, the 5GIC will help to define and develop the 5G infrastructure that will underpin the way we communicate, work and live our everyday lives in the future.
The Royal Borough of Greenwich and Digital Greenwich are working on a world-leading "Smart City" strategy setting out how the Council proposes to implement "smarter" approaches to coping with future challenges related to transport, health, energy and the built environment. It will create new opportunities for businesses and local communities, securing business regeneration and growth.
Professor Rahim Tafazolli, Director of 5GIC and Institute of Communication Systems, commented: "Fundamental to next generation Smart City applications is the creation of a robust communications systems. Working with Digital Greenwich will enable the 5GIC to develop solutions targeted at multiple use cases in a city context. The partnership will also provide the foundation to drive standardised solutions for all of the UK to benefit from the technology.
Cllr Denise Hyland, Leader of the Royal Borough of Greenwich, commented: "I am delighted to welcome the 5G Innovation Centre to the Royal Borough of Greenwich as a highly respected partner and as a valuable catalyst to our comprehensive smart city strategy.  I am confident that this engagement will help strengthen our economy and deliver the best possible services to Greenwich businesses and residents."
Minister of State for Digital and Culture, Matt Hancock, said: "We want to make Britain the most digitally advanced of all nations. We are already a world leader in the development of 5G technology, so I'm delighted by the new partnership between the University of Surrey and Digital Greenwich. Collaborations like this will help make our cities better places in which to live, to work, and to play."
Adrian Scrase, Chief Technology Officer of ETSI, said: "ETSI produces globally-applicable standards for Information and Communications Technologies (ICT) and welcomes this type of partnership where next generation systems are co-created with the end sectors who will gain the most benefit from the technology. Having Greenwich and Surrey working together will ultimately help to define next generation technology is fit for purpose and can be practically implemented in a real environment.  ETSI looks forward to the results of this partnership being fed back into the standardisation process."
Dr Mike Short CBE, Vice President, Telefónica Group, commented: "5G will only be successful if we blend real world experience with the new technologies of 5G, alongside existing infrastructure such as Transport and Energy. Greenwich together with 5GIC support represents a great place to explore the application of new technology within part of one of the largest cities in the world."
Featured Academics
---
Media Contacts
---
External Communications and PR team
Phone: +44 (0)1483 684380 / 688914 / 684378
Email: mediarelations@surrey.ac.uk
Out of hours: +44 (0)7773 479911