---
news
Published:
17 October 2022
Dept of Sociology Students & Staff Enjoy Murder Mystery Event!
On Wednesday 12th October the Department of Sociology organised a fantastic Murder Mystery event for first year students across our 4 Programmes.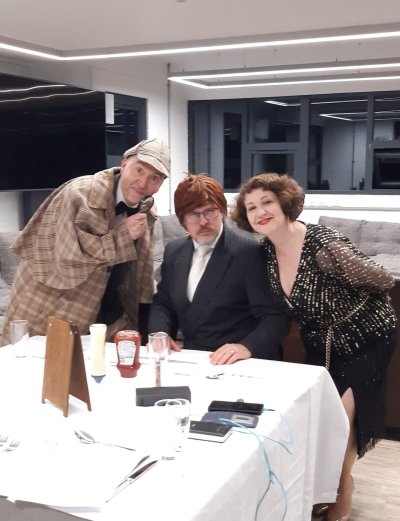 Students were invited to a dinner theatre event to help Sherlock Holmes solve the mystery of 'Prof Bugel's' death over a three course meal. The evening was truly superb and full of excitement and turns in the plot. Students were greeted by the characters at the Wates bar for pre-dinner drinks, where cluepacks were distributed! The comic plot unfolded around each course served. During desert the students had a chance to figure out who dunnit!!  The students had a fantastic time and enjoyed working as a team in their tables to uncover the murderer. This was all about community building and it was a brilliant way to get to know each other in the beginning of their studies.
Faculty Associate Dean for Education, Emma Mayhew attended the event and said:
"Students from the Department of Sociology enjoyed a fantastic murder mystery event on Wednesday evening. I expected drama but I didn't expect it to be so hilarious! The staff table really tried but we just couldn't beat the hard working student table next to us who guessed the murderer correctly and took away a couple of very well deserved bubbly prizes. This was another great community building event bringing staff and students together."
Thi Bogossian, one of our PhD students and Graduate teaching Assistant said:
"It was lovely to get to see the 1st year students outside of the walls of the classroom. I think it strengthened our bonds and increased the trust they have in us, which will, for sure, improve their learning. The activity was also a lot of fun! Students were engaged and interested and we all had a great time!"