---
press release
Published:
13 October 2022
Hollywood actress and Surrey alumna Ella Balinska discusses cultural expansion in the performing arts industry
Ella Balinska, star of Charlie's Angels (2019), Resident Evil (2022), Run Sweetheart Run (2020) and University of Surrey alumna, has spoken about how recent cultural events have inspired her to make a positive difference in the performing arts industry – including funding a scholarship programme at the University of Surrey.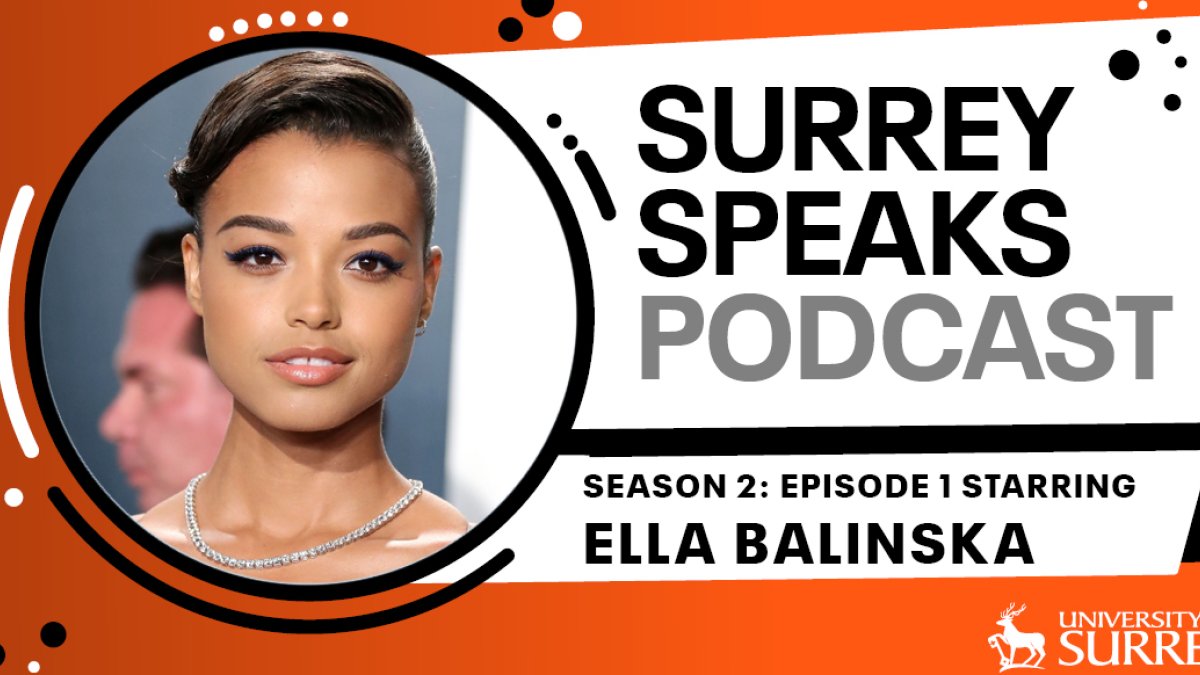 In the first episode of a new podcast series, hosted by the University of Surrey, Balinska spoke about what drove her to establish the Ella Balinska Scholarship programme to support talent from diverse backgrounds through a financial award to one first-year student on the Acting BA (Hons) course. The successful student must be a part of the Global Majority – a term used to describe people who identify themselves as being from any Black, Asian or minority ethnic background. 
When asked why she set up the scholarship, Ella told the Surrey Speaks podcast: 
"It was around the same time that Black Lives Matter really came to the forefront of the conversation. I have friends here (I'm in the States right now) who are American. They're ingrained in everything that's going on - they were in the marches and protests, and it was incredible to see them being an active, positive contribution to their community.  
"I felt so far away from home because I couldn't get home (because of Covid-19), and I wanted to figure out a way that I could lend my voice, my platform, to make that positive contribution to my community."  
Balinska graduated from Surrey's Guildford School of Acting (GSA) in 2020. 
On the subject of inclusivity in the industry, Ella shared a story of when she first moved to the United States before Charlie's Angels aired and she attended a Golden Globes party: 
"I was walking around this party, and it was the same year that Crazy Rich Asians (2018) and Black Panther (2018) were all in the awards consideration. The Black Panther table had no idea who I was – Charlie's [Angels] hadn't released. They were like "hey, who are you? Get over here!" It really is a community.  
"If we can start at the source by building this inclusivity, then I'm really excited to see how this could have a knock-on effect throughout the rest of the industry for the next generation of actors." 
The full podcast series aims to promote the University of Surrey's The Future Says Surrey campaign, fostering pride and a sense of belonging, whilst also promoting our cutting-edge research at the University of Surrey, as well as supporting the creation of scholarships like Ella's to support current students. 
Note to editors:    
Media Contacts
---
Georgie Gould
Media Officer (Faculty of Arts and Social Sciences)
Phone:
External Communications and PR team
Phone: +44 (0)1483 684380 / 688914 / 684378
Email: mediarelations@surrey.ac.uk
Out of hours: +44 (0)7773 479911