---
feature
"I always wanted to conduct medical research. The goal was to understand disease and improve treatments…"
Professor Nicola Curtin is our Alumna of the Year in the Vice-Chancellor's Alumni Awards. After graduating with a PhD in Biochemistry in 1981, she enjoyed a prestigious career in medical research and her work on PARP inhibitors has paved the way for novel cancer treatments across the globe…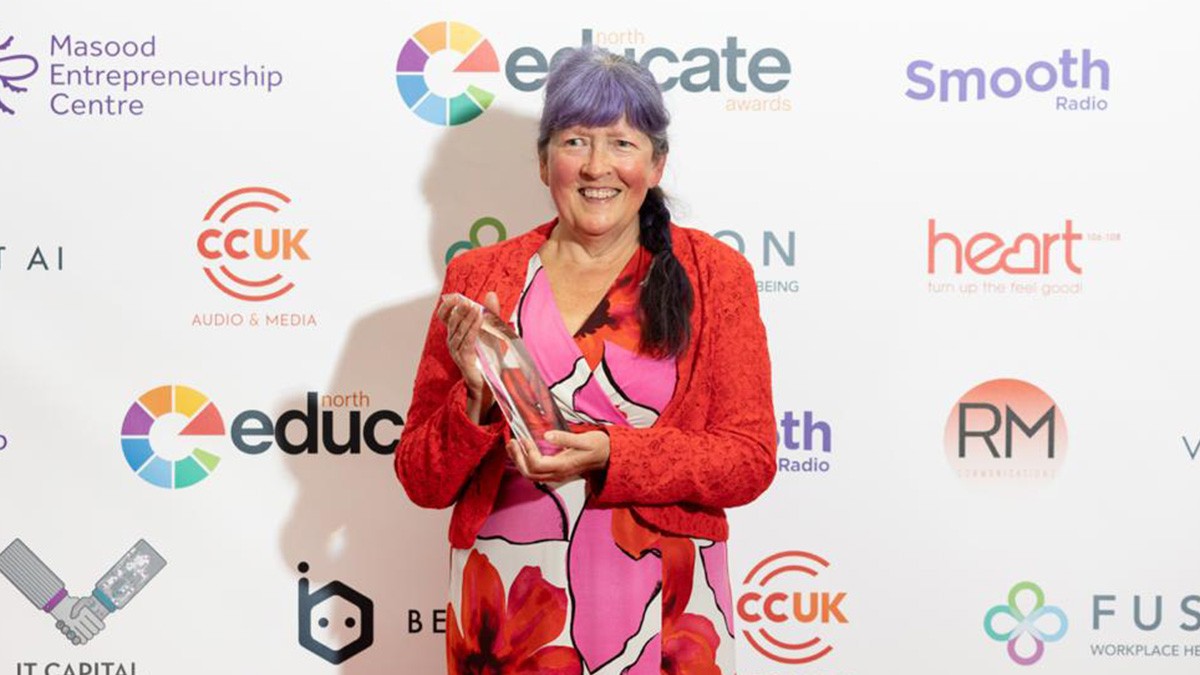 An advert promoting a PhD position investigating liver cancer first brought Nicola to Surrey.
"I have fond memories of working under my supervisor, Dr Keith Snell," she recalls. "We eventually discovered there were biochemical similarities between a naturally regenerating liver and one that was becoming cancerous. This suggested there were new potential routes for tackling liver cancer."
Drug development research
Nicola graduated in 1981 and, following a trip to India and South-East Asia, she returned to the UK.
"I landed a job in Newcastle," she reveals. "It included working on a novel antifolate drug. This was being developed at the Institute of Cancer Research in Sutton and it went on to be clinically used.
"I was lucky when Hilary Calvert, who'd been at the Institute, moved to Newcastle to start a drug discovery unit. I was also fortunate that my antifolate project led to something that was a perfect fit for their portfolio. I joined as a member of Hilary's team in 1990. My daughter was born that year, too.
"Alongside motherhood, I took on my own project, plus the evaluation of novel PARP inhibitors (PARPi). I spent 20 years in the drug discovery unit and I worked on a lot of projects. But my main interest was in DNA repair and PARPi."
PARP and PARPi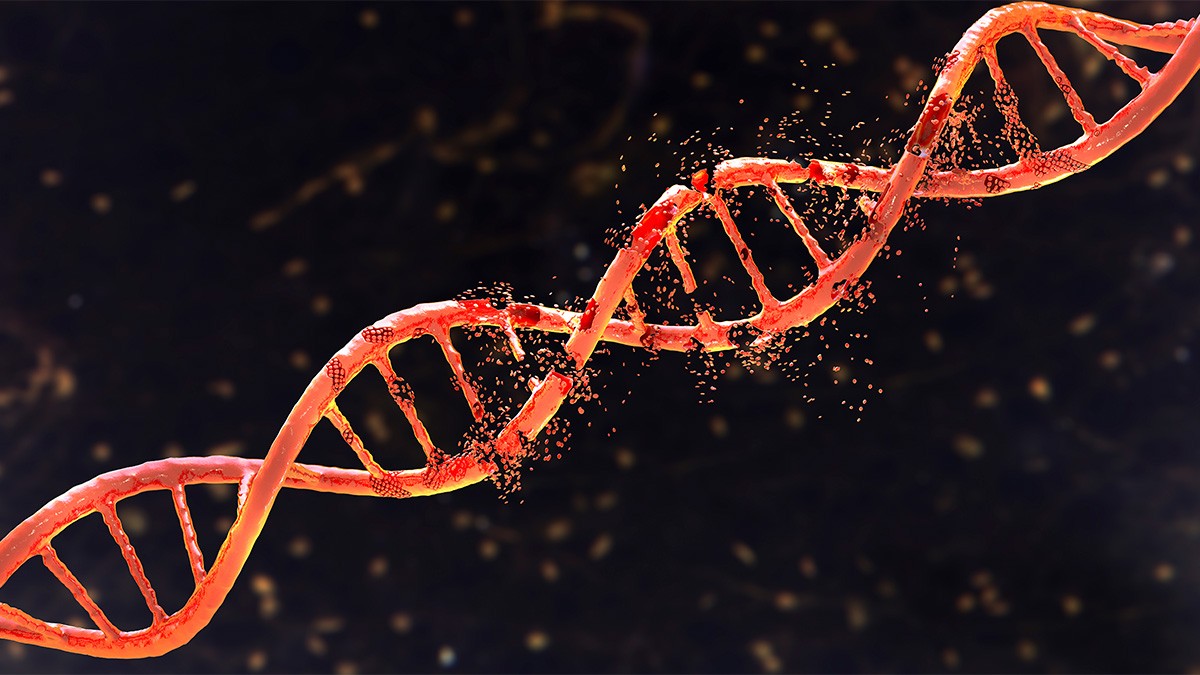 PARP – or Poly(ADP-ribose) polymerase – is an enzyme that helps repair DNA. The most common type of DNA damage involves a break in one of the two strands of DNA. PARP is a key component in the repair of such single strand breaks.
Nicola continues: "We were developing PARPi for use alongside certain types of chemotherapy and radiation. We had several lucky accidents as we made various breakthroughs."
Nicola's first "accident" involved making a compound to inhibit PARP. During its synthesis, it underwent a molecular rearrangement and became 50 times more potent than expected.
The other big break occurred when Zdenek Hostomski from Agouron Pharmaceuticals heard about the Newcastle team's work.
"We gave him our best inhibitor," recalls Nicola. "He coupled this with related advances from labs in Germany and France. This led to the creation of the drug, rucaparib."
The creation of Rubraca
The version of this drug that Nicola and her team developed was Rubraca. In 2003, it was the first PARPi, used in combination with a chemotherapy drug, to go into clinical trial for the treatment of cancer.
Nicola continues: "Bizarrely, this meant it ceased to be a drug discovery project. However, the combination with chemotherapy turned out to be toxic, so it was lucky that I'd already started working with Thomas Helleday's group in Sheffield to explore if PARPi could be used on their own to exploit a cancer-specific defect in another DNA repair pathway, homologous recombination DNA repair, usually due to BRCA1 or BRCA2 mutations."
That hypothesis turned out to be correct.
"PARP is the first line of defence in the repair of DNA damage caused by our normal metabolism," explains Nicola. "If that fails, homologous recombination DNA repair kicks in.
"But if you have the BRCA1 and BRCA2 gene mutation, the back-up pathway is not functional. If you inhibit PARP in a cell with mutant BRCA, it can't repair its DNA either way and it dies.
"In a nutshell, since only the tumour is defective in homologous recombination DNA repair, it means you can target cancer cells without harming normal cells. It's quite cool."
Publication and acceptance
Nicola's team published their ground-breaking findings in the influential science journal, Nature, in 2005.
"The article went against the grain of scientific thinking," recalls Nicola. "Most cancer treatments then involved either poisoning the cancer or damaging the cancer cells, so it kills them without hopefully killing all the healthy cells, too.
"Exploiting a defect in DNA repair that was specific to the cancer meant it was not going to be as toxic to the patient. It was a new concept in cancer therapy.
"Any initial scepticism was soon dispelled when four years later, the first clinical data showed that PARPi were effective and had only mild side effects. It gave lots of drug companies added incentive to develop this treatment."
More clinical trials followed showing the drug could be used as a single agent. Rubraca wasn't the first PARPi to be approved, but it got its first approval in 2016.
Nicola, meanwhile, was pursuing a new use of PARPi…
Tackling ovarian cancer
Nicola's extensive research involving ovarian cancer patients provided proof that PARPi could successfully work in a bigger demographic than was previously accepted.
She explains: "Ovarian cancer is mostly treated with a drug called carboplatin. I knew BRCA mutations and other defects in the DNA repair pathway made cells more sensitive to carboplatin.
"The response rate to carboplatin is around 60 per cent. But only about 20 per cent of ovarian cancer was associated with BRCA mutations. I suspected we were underestimating the frequency of defects in homologous recombination by focusing only on BRCA mutations.
"We started collecting ovarian cancer cells from patients undergoing surgery and testing them for their function of this pathway. We showed that around 60 per cent of the patient samples had the defect, even though we were collecting from patients not known to have BRCA mutations or a family history of the disease.
"That meant that PARPi would be effective against 60% of ovarian cancers rather than just 20% with BRCA mutations."
The Curtin PARP Fund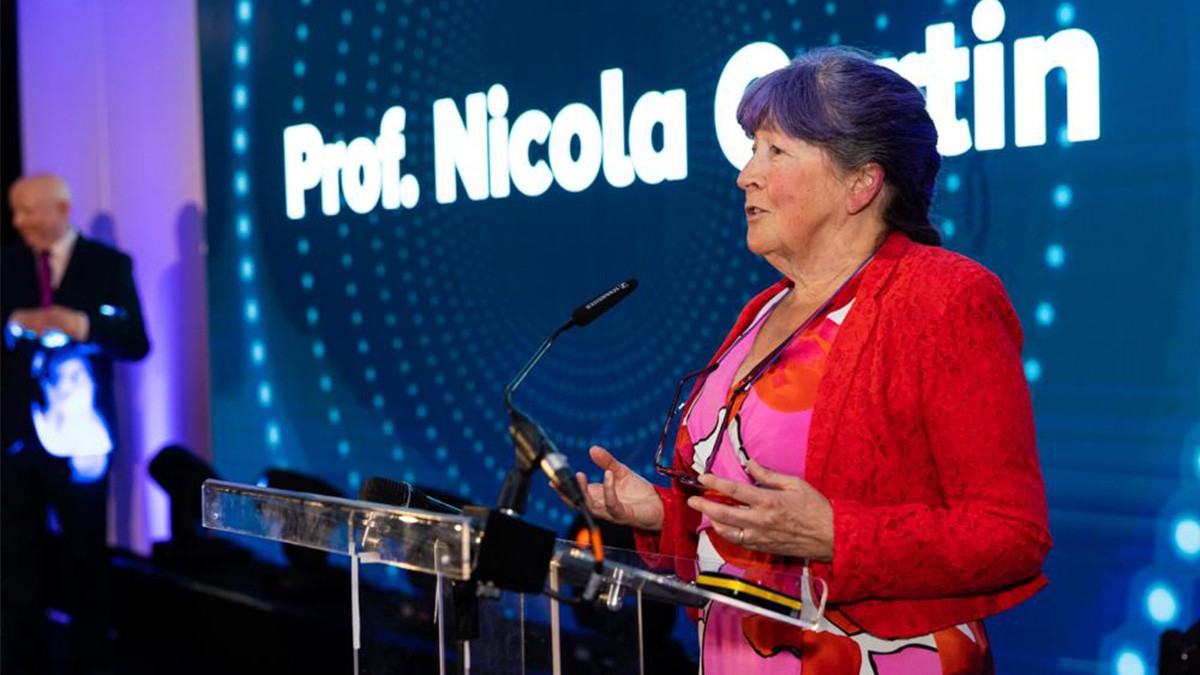 When Newcastle University sold part of its holding in Rubraca, Nicola received a royalty payment of £865,000.
"It was like winning the Lottery," she smiles. "But my family didn't need it, so I decided to put it to good use."
That "good use" was the Curtin PARP (Passionate About Realising Your Potential) Fund. Its aim: to help disadvantaged people overcome barriers to education and employment.
"Since the initial donation in 2019, we've given out nearly £160,000 using the interest alone," reveals Nicola.
Making a difference
Nicola's retiring from full-time research next year. Although she's still collaborating with a clinician who works in India to make PARPi more affordable in that country. She also doesn't dwell too much on the role she's played saving hundreds of thousands of lives around the world.
"It's nice to know I've made a difference," she says. "I realise a lot of clever scientists put in a lot of hours but don't have the same sort of success.
"Research can often be a bit like a detective story. You retain and examine bits of information, and pull them together to pose a hypothesis that you can test.
"Not everybody gets the opportunity to see their work have an impact. I'm quite fortunate in that respect. I'm also happy I've been able to use the success of Rubraca to set up the Curtin PARP Fund, which will continue to help people when I'm no longer here."
Alumna of the Year Award
Nicola admits that: "Winning the Alumna of the Year Award is a lovely thing. Thousands of graduates who've done amazing things have studied at the University. To be selected out of all of those is a huge honour.
"Surrey got me started on my career path, so it's nice to have it come full circle. I also hope that my experiences motivate other students to fulfil their dreams and to do their best.

"And not just for themselves, but for other people, too."