---
news
Published:
06 November 2023
Life-changing £1 million boost for Surrey students
Sam and John Dawson have made a gift of more than £1 million to create scholarships for care-experienced students and those studying a degree at Surrey's new School of Medicine…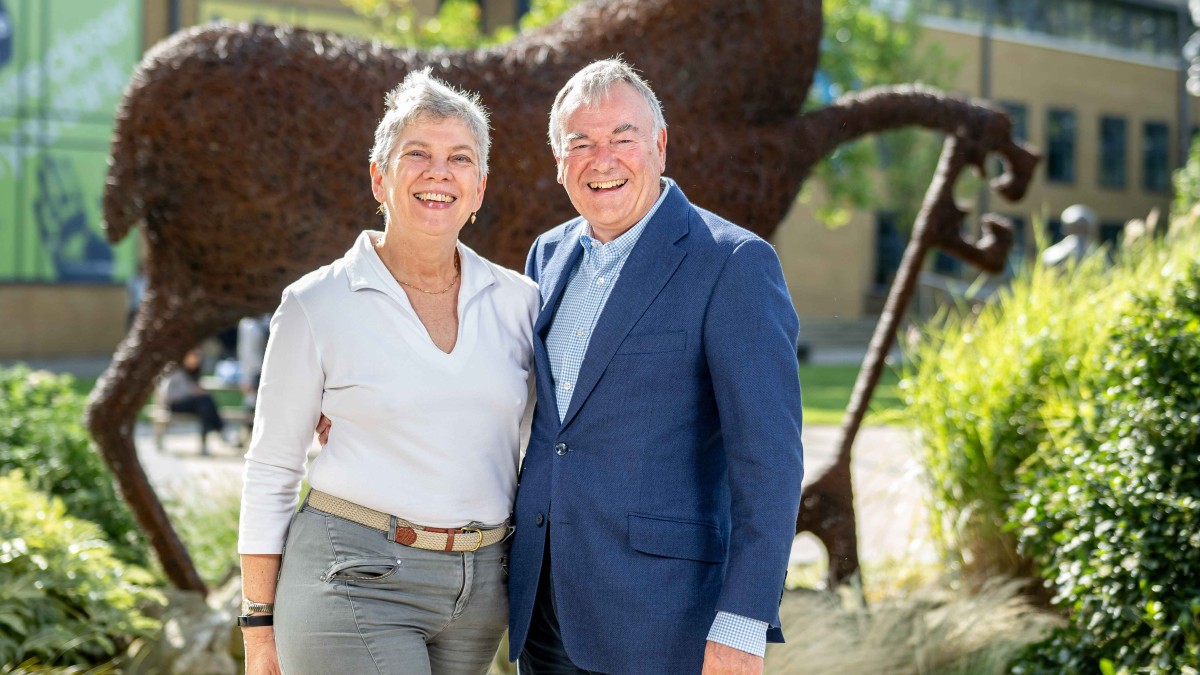 Sam, who studied biochemistry at Surrey from 1974-1978, and her husband, John, who studied pharmacy at the University of Sunderland, offered the financial support to enhance educational access. Their £1 million gift will be used to create two scholarships that will bear their name. 
Care experienced students
The Sam and John Dawson Scholarship will increase support already provided at the University of Surrey for care-experienced students. 
A 2019 study by the Office for Students reported that a mere 19 per cent of this group is in higher education by the age of 19, compared to 43 per cent of other young people. In 2021, the Children's Commissioner of England highlighted that 41 per cent of care-experienced people aged 19-21 were not in education, employment or training. 
"Care-experienced can mean different things," says Hollie Baker, our Deputy Head of Student Experience. "It can involve a child living with a foster family or in a residential children's home. It can also mean someone who's being looked after under a supervision order or living in kinship care.
"There are a wide range of reasons that can lead to these circumstances. But the impact is that on average care-experienced learners have significantly poorer educational outcomes than the general population, and they are under-represented in higher education.
"Many often feel defined by the stigma of their situations and can't see themselves at university because they don't think they belong there."
The Sam and John Dawson Scholarship will help change this by offering two care-experienced students per year enhanced financial support to ensure they can focus on their courses at Surrey. 
Medical students
The Sam and John Dawson Medical Scholarships will fund two places per year for UK students at Surrey's new School of Medicine. Our new School will accept its first intake of trainee doctors next year, with its first class graduating in 2028. 
"These scholarships are fantastic news," says Professor Juliet Wright, the Founding Dean of our new School of Medicine. "We plan to have an integrated and clinically focused programme, and a relatively small one in terms of student numbers. This means we can closely support our doctors in training both professionally and academically. 
"Because of a limit on student numbers, we initially planned to only accept international students. This generous support means we'll be able to accept two UK-based students in our first intake." 
Life Changing
The generosity of Sam and John means we'll be able to provide more students more life-changing opportunities at Surrey,
"We have a long tradition of providing support to allow those from under-represented groups to secure access to higher education," says Daniel Lawrence, our Regular Giving Manager. "In fact, it's part of our University's DNA stretching back to the foundation of our forerunner institution, Battersea Polytechnic, in 1891. 
"Sam and John's generous gift will help us continue that proud tradition for many years to come."
It's a sentiment that Surrey alumna Sam also recognises. 
"John and I benefitted from higher education," adds Sam. "Studying for a degree can be such a transformative journey and it has the power to change lives for the better. 
"We're delighted to be able to support people who otherwise may not have the opportunity to take their initial steps on that exciting path."