---
news
School of Economics in top 10 in the UK for its research
The School of Economics is in the top 10 schools in the UK for world-leading research following the publication of the Research Excellence Framework 2021 (REF).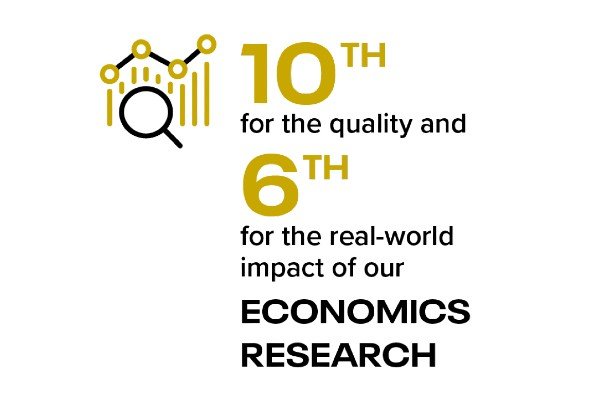 The School achieved an overall ranking of 10th for research quality, 6th for real-world impact and 8th for research environment in REF.
Professor Maurizio Zanardi, Head of School, said: "REF 2021 has been a great success for our School and our results speak for themselves. What is most pleasing is that the quality of our research environment has been highlighted as this represents what we are and stand for as a School."
In REF 2021 published this week:
95% of the research outputs were of world-leading or internationally excellent quality with 31% achieving the highest level of recognition (4*)
63% of the School's research environment judged to be conducive to producing research of world-leading quality and enabling outstanding impact in terms of its vitality and sustainability (4*)
50% of the School's impact case studies were rated at 4* and 50 per cent at 3* level, meaning that its impact case studies have outstanding or very considerable impacts in terms of their reach and significance.
The School's success was one of many for the University of Surrey – which is now ranked 33rd for research quality. Find out more here.
Featured Academics
---
Related content
---