---
news
Showcasing Sociology Careers
During March- May 2022, the Department of Sociology ran a series of in-person and online events under the umbrella title of 'Showcasing Sociology Careers'. These provided sociology, criminology and media and communications students with a range of information and inspiration to support the development of their plans for post-university employment.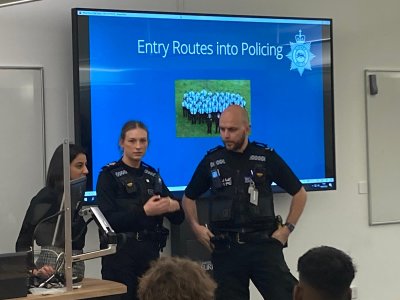 Alumni Speed Networking Event (1st March, online)
Students met and networked with some of our alumni guest speakers as they shared their career journeys and discussed their current employment experiences. The event received several positive feedback comments. One student said: "It was very useful to talk to recent graduates and hear about their experience in the process of finding a job", whilst another commented: "I gained advice on where I should start searching for a job and how to attract employers".
Career Options and Job Search: Strategies and Support (17th March, online)
Helen Plummer, our Careers Consultant ran a careers session for all BSc final year students. The session included how to explore career options, effective job search strategies, presenting skills to an employer, and accessing support from the Careers and Employability team.
Public Relations Q & A Panel (4th April, in-person)
This event provided Year 3 media and communication students with the chance to hear from leading figures from the public relations sector about their experiences of working in the field and the journeys that led them there, as well as ask questions to inform their own career plans.
Policing Careers Panel (4th May, in-person)
The British government has recently announced the hiring of 20,000 new police officers in the next few years, and many police forces across the country have started recruiting. This talk from Surrey Police included information about the various pathways to joining the police force, and what it is like to be a police officer, with opportunities for students to ask questions.
City Year UK: How to Excel at Assessment Centres and Placement Opportunities (19th May, online)
City Year UK is a charity that seeks to tackle educational disadvantage and inequality in schools through volunteer mentoring. Students attended a workshop on how to excel at assessment centres (which often feature at the final stage of the selection process for graduate jobs), whilst also gaining further information about placement opportunities at the organisation.