---
press release
Published:
25 October 2019
Surrey GP Professor Simon de Lusignan awarded Guildford Roll of Honour 2019
A Guildford GP who conducts extensive research and whose surveillance of infectious diseases helps protect people across the country has received this year's prestigious Guildford Roll of Honour award.
Credit: Paul Stead Photography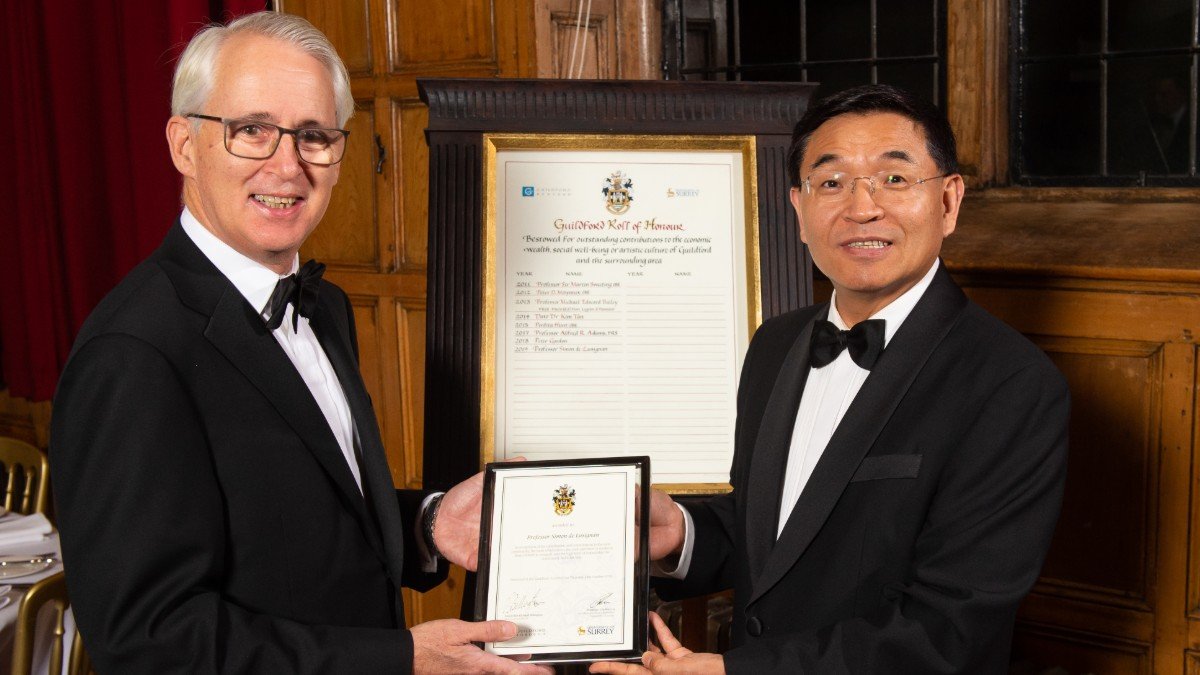 Professor Simon de Lusignan has worked at the cutting edge of general practice in Guildford for over 30 years. Alongside patient care he has conducted extensive research which has shaped the way British GPs work and boosted the quality of care for patients, particularly in the fields of cardiovascular disease, chronic kidney disease, diabetes, mental health and vaccine-preventable disease. His leadership is changing approaches to diagnosis and treatment of acute and chronic conditions. He has published more than 400 peer-reviewed papers and articles exploring how routine data can measure quality and health outcomes, how technology can be incorporated into general practice and how new roles in health care can be enabled by technology.
As Director of the Royal College of General Practitioners Research and Surveillance Centre, Professor Lusignan is involved with producing weekly reports on disease prevalence. These reports result from processing nearly 4 million people's data in around four hours and provide a national service to the UK, enabling accurate monitoring of infectious disease outbreaks, particularly influenza.
Receiving his award, Professor Lusignan said: "It is a tremendous honour to be recognised for a local role that has meant a great deal to me. None of my achievements would have been possible without the fantastic support of my teams and my family. There are fantastic opportunities in general practice and primary care, both clinical and academic. I hope that many more people will look towards making a contribution in these career pathways."
Professor Max Lu, President and Vice-Chancellor of the University of Surrey, said: "Simon is the most highly research-engaged academic GP in Surrey, with a significant national profile as well. His energy is boundless, inspiring fellow clinicians and academics to aim high with their own work. By balancing his clinical practice with his research and his work monitoring infectious disease outbreaks, Simon's contributions improve lives in our community and across the country. I am delighted that he has received this year's Roll of Honour award."
Councillor Caroline Reeves, Leader of Guildford Borough Council, said: "The Guildford Roll of Honour is our annual opportunity to show our appreciation for someone from Guildford who has really made a difference and an impact not only in our community but also across the country. Professor Lusignan fits this description perfectly and as Leader of the Council it is a great pleasure to add him to our list of esteemed holders of the Honour."
The Guildford Roll of Honour award was presented to Professor Simon de Lusignan at a special ceremony at the Guildhall on Thursday 24 October. The award celebrates a small number of individuals who have made exceptional contributions to the economic wealth, social well-being or artistic culture of Guildford and the surrounding region. The initiative is a joint venture between the University of Surrey and Guildford Borough Council.
Media Contacts
---
External Communications and PR team
Phone: +44 (0)1483 684380 / 688914 / 684378
Email: mediarelations@surrey.ac.uk
Out of hours: +44 (0)7773 479911