---
press release
Surrey wins national award for best university careers and employability service
Students at the University of Surrey are getting a 'best in class' careers service according to the judges of the National University Employability Awards, who awarded Surrey's Employability and Careers team as the Best University Careers/Employability Service in the UK.
Credit: © Rate My Placement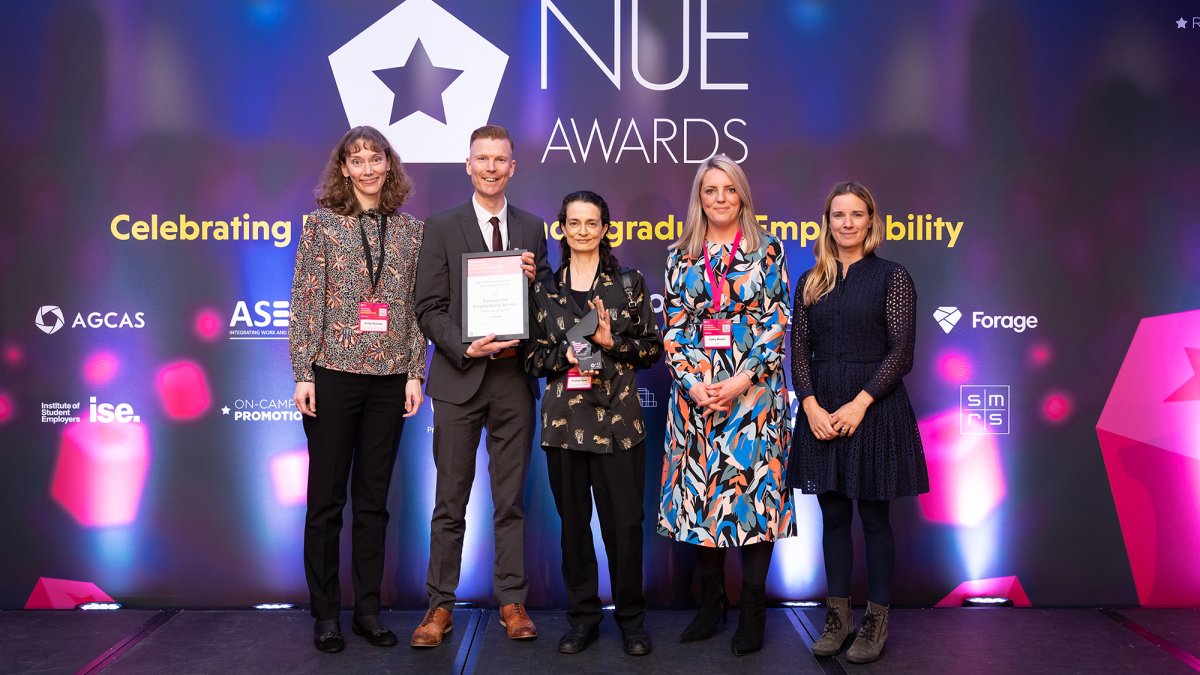 The quality of Surrey's careers service is underpinned by official data. The University of Surrey's graduates are amongst the most employable in the UK, and second only to the University of Oxford in the South East of England, according to the Graduate Outcomes data published by the Higher Education Standards Agency.
These outcomes are a result of a consistent focus on preparing students for employment in Surrey's curriculum, the inclusion of it successful Professional Training placement and other schemes, and the excellent support provided by the University's Employability and Careers team.
The University of Surrey is also ranked first in the UK and 12th in the world for work placements and research partnerships with employers, according to the globally respected QS World Employability Rankings 2020.
At Surrey, we recognise that student careers begin from the moment that they set foot on campus. This award highlights how the tireless work of the Employability and Careers team can be of service at every stage of our students' journey. This would not be possible without the collaboration of our academic colleagues, more than 300 committed employers that we work with, and not least our truly talented students.
Frances Gow, Head of Employability and Careers at the University of Surrey
The NUE award recognises a university's careers and employability service that goes above and beyond to help their students embark on careers upon graduation, as well as maximising their work experience opportunities during their studies.
Along with supporting 16,000 students, Surrey's Employability and Careers team is also committed to reducing the gap into highly skilled employment for disadvantaged students through its Career Mentoring Scheme. Surrey's Career Mentoring Scheme matches BAME students, care leavers and estranged students with professional mentors across its network.
The NUE Award judges noted that the University of Surrey "is a shining example of what a best-in-class careers service looks like".
Note to editors 
The Higher Education Standards Agency (HESA) collects Graduate Outcomes data
Contact the University of Surrey's Press Office: mediarelations@surrey.ac.uk.
Media Contacts
---
External Communications and PR team
Phone: +44 (0)1483 684380 / 688914 / 684378
Email: mediarelations@surrey.ac.uk
Out of hours: +44 (0)7773 479911