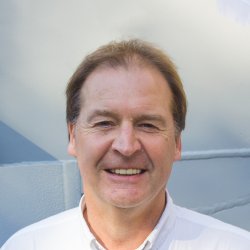 Professor Chris Cowls MBE
---
Visiting Professor
MBE MA MBA
About
Biography
Chris is CEO of Eproductive Ltd, the tech business that he founded with his brother Nick in 2000. The company is a leader in the digital transformation of hotel people management in the UK and elsewhere in Europe through its cloud-based system, EPS. The company is also a major provider of technological solutions to the charity retail sector in the UK. Chris has worked in virtually all sectors of the hospitality industry throughout his career and in many parts of the world.
As Visiting Professor Chris lectures on a range of hospitality topics and has been involved in several research projects, notably an ESRC funded 3-year study of hotel labour productivity. He is a Director of the Hospitality Professionals Association and coordinates the 2050.network group of UK hospitality leaders.
Chris holds an MA from the University of Aberdeen as well as an MBA from the University of Newcastle-Upon-Tyne and is a Fellow of the Institute of Hospitality. In 2019 he was appointed MBE for services to the Church and to charity.