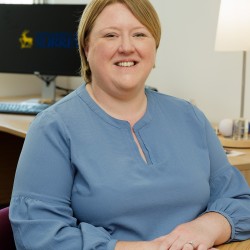 Claire Rhodes
---
Associate Professor in Criminology and Forensics
BSc (Hons), MSc, PGCLTHE, CSE Dipl (DUNELM)
About
Biography
I started my role at the University of Surrey in 2023, having previously been at the University of Portsmouth (2010 - 2013).
Prior to becoming an academic I worked for Surrey Police as a Scenes of Crime Officer (2005-2010) and the Police Service of Northern Ireland (2005). 
My main research interests lie in crime scene investigation methods.  More specifically, I am interested in firearms investigation, Gunshot Residue (GSR) detection, transfer and persistence and how this is applied in a practical policing and investigation setting and more widely within the criminal justice sector. My doctoral research involves the detection of gunshot residue at crime scenes using infra red light sources and ascertaining the background levels of GSR in the environment and in police facilities. This research has been supported by both local and international police forces and forensic science providers.  I have also presented the findings at international conferences, including the Association of Firearms and Toolmark examiners annual symposium. 
My second area of research interest is related to teaching pedagogy, with a specialism in curriculum design and the use of technology.  This includes the use of augmented and virtual reality in delivering content on higher education courses and for professional practice and development focusing on the areas of criminology, policing and forensic investigation. 
University roles and responsibilities
Programme Director BSc (Hons) Criminology with Forensic Investigation
My qualifications
2002
BSc (Hons) Crime Scene Science
Teesside University
2004
Crime Scene Examination Diploma
University of Durham
2012
Postgraduate Certificate of Learning and Teaching in Higher Education
University of Portsmouth
2015
MSc Criminology and Criminal Justice
University of Portsmouth
Teaching
As Programme Director for the BSc (Hons) Criminology with Forensic Investigation course I teach across a range of forensic related modules.  I am currently the module coordinator for level 4 Academic Skills for Criminology and Forensic Investigation and level 4 Forensic Criminology.  
Prior to joining the University of Surrey I have taught across various modules from level 4 to level 7 which included, Introduction to Criminology, Research Methods, Firearms Investigation, Fire Investigation, Criminal Investigation, Managing Criminal Investigation and Techniques of Scientific Investigation. 
Publications
Rhodes, C.
(2017)
Infra-red photography: a practical method for the detection and identification of gunshot residue. [Poster Presentation]. 21ST Triennial Meeting of the International Association of Forensic Sciences, Toronto, Ontario, Canada.
Rhodes, C., Earwaker, H.
(2017)
Online immersive learning in Crime Scene Investigation. [Paper Presentation]. 24TH ALT Annual Conference 2017, Liverpool, United Kingdom.