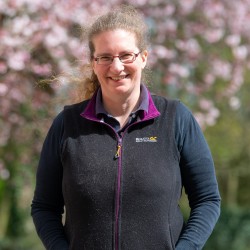 Kate English
---
Senior Lecturer in Veterinary Clinical Pathology
BSc BVetMed PGCAP FHEA FRCPath MRCVS
About
Biography
After graduating I worked at Battersea Dog's home and in first opinion general practice (mixed) before returning to academia to complete a residency in Veterinary Clinical Pathology. Following the residency I worked in commercial pathology labs and academia, with a dual role of diagnostics and teaching at the RVC for over 10 years. Before joining Surrey in 2022. 
Areas of specialism
Veterinary Clinical Pathology
University roles and responsibilities
Publications
Additional publications
Hardas A, Priestnall SL, Pittaway R, Purzycka K, English K, Attipa C.
J Am Vet Med Assoc. 2021 Oct 15;259(8):853-856. doi: 10.2460/javma.259.8.853.
PMID: 34609181 No abstract available.
Spontaneous Septic Arthritis of Canine Elbows: Twenty-One Cases.
Mielke B, Comerford E, English K, Meeson R.
Vet Comp Orthop Traumatol. 2018 Nov;31(6):488-493. doi: 10.1055/s-0038-1668108. Epub 2018 Oct 9.
PMID: 30300912
Aldosterone-producing adrenocortical carcinoma with myxoid differentiation in a cat.
Attipa C, Beck S, Lipscomb V, English K, Carvalho S, Kiupel M, Szladovits B, Peters LM.
Vet Clin Pathol. 2018 Dec;47(4):660-664. doi: 10.1111/vcp.12658. Epub 2018 Sep 21.
PMID: 30240029
Haematology and coagulation profiles in cats with congenital portosystemic shunts.
Tzounos CE, Tivers MS, Adamantos SE, English K, Rees AL, Lipscomb VJ.
J Feline Med Surg. 2017 Dec;19(12):1290-1296. doi: 10.1177/1098612X17693490. Epub 2017 Feb 1.
PMID: 29171354
What is your diagnosis? Lymph node aspirates from a dog with prominent lymphadenomegaly.
Attipa C, Brooks F, Wilson A, Skulberg R, English K.
Vet Clin Pathol. 2017 Dec;46(4):641-642. doi: 10.1111/vcp.12529. Epub 2017 Jul 24.
PMID: 28741308 No abstract available.
Pulmonary cowpox in cats: five cases.
McInerney J, Papasouliotis K, Simpson K, English K, Cook S, Milne E, Gunn-Moore DA.
J Feline Med Surg. 2016 Jun;18(6):518-25. doi: 10.1177/1098612X15583344. Epub 2015 May 13.
PMID: 25972246
Autochthonous babesiosis in the United Kingdom.
Cook S, English K, Humm K.
J Small Anim Pract. 2016 Jun;57(6):332. doi: 10.1111/jsap.12487. Epub 2016 Apr 26.
PMID: 27112907 No abstract available.
Prevalence and risk factors for mast cell tumours in dogs in England.
Shoop SJ, Marlow S, Church DB, English K, McGreevy PD, Stell AJ, Thomson PC, O'Neill DG, Brodbelt DC.
Canine Genet Epidemiol. 2015 Jan 26;2:1. doi: 10.1186/2052-6687-2-1. eCollection 2015.
PMID: 26401329 Free PMC article
Evaluation of red blood cell distribution width in cats with hypertrophic cardiomyopathy.
Stanzani G, Cowlam R, English K, Connolly DJ.
J Vet Cardiol. 2015 Dec;17 Suppl 1:S233-43. doi: 10.1016/j.jvc.2015.09.001.
PMID: 26776582
Evaluation of red cell distribution width in dogs with pulmonary hypertension.
Swann JW, Sudunagunta S, Covey HL, English K, Hendricks A, Connolly DJ.
J Vet Cardiol. 2014 Dec;16(4):227-35. doi: 10.1016/j.jvc.2014.08.003. Epub 2014 Oct 31.
PMID: 25465342
Identification of Sarcocystis capracanis in cerebrospinal fluid from sheep with neurological disease.
Formisano P, Aldridge B, Alony Y, Beekhuis L, Davies E, Del Pozo J, Dunn K, English K, Morrison L, Sargison N, Seguino A, Summers BA, Wilson D, Milne E, Beard PM.
Vet Parasitol. 2013 Mar 31;193(1-3):252-5. doi: 10.1016/j.vetpar.2012.12.016. Epub 2012 Dec 20.
PMID: 23312871
What is your neurologic diagnosis? Mast cell tumor.
Guevar J, Shihab N, English K, Volk HA.
J Am Vet Med Assoc. 2013 Mar 1;242(5):619-21. doi: 10.2460/javma.242.5.619.
PMID: 23402407 No abstract available.
First detection of 'Candidatus Mycoplasma haemolamae' infection in alpacas in England.
Crosse P, Ayling R, Whitehead C, Szladovits B, English K, Bradley D, Solano-Gallego L.
Vet Rec. 2012 Jul 21;171(3):71. doi: 10.1136/vr.100611. Epub 2012 Jul 10.
PMID: 22781345
Evaluation of cerebrospinal fluid in Cavalier King Charles Spaniel dogs diagnosed with Chiari-like malformation with or without concurrent syringomyelia.
Whittaker DE, English K, McGonnell IM, Volk HA.
J Vet Diagn Invest. 2011 Mar;23(2):302-7. doi: 10.1177/104063871102300216.
PMID: 21398451
Paraneoplastic hypercalcemia in a dog with benign renal angiomyxoma.
Gajanayake I, Priestnall SL, Benigni L, English K, Summers BA, Garden OA.
J Vet Diagn Invest. 2010 Sep;22(5):775-80. doi: 10.1177/104063871002200523.
PMID: 20807942