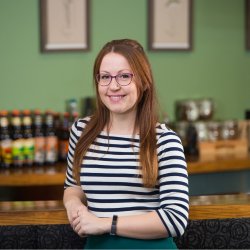 Lauren Haffenden
---
Assisstant Manager & Development Lead
About
Lauren graduated from the University of Surrey with the International Hospitality Management cohort of 2016.  During her studies undertaking her professional training year within a 5* London hotel as a Guest Relations manager.
Since graduating, Lauren has joined the Lakeside team and is now in the role of Assistant Manager and Development Lead. Lauren is particularly interested in the role of Learning & Development in the strategic creation and implementation of sustainable business operations. With focus on the environment as a key source of development and opportunity for enhancing competitive advantage within the hospitality sector.
As part of her role, Lauren has implemented several green initiatives. Focussing predominantly on the reduction of single use materials and menu offering. As an avid member of the Sustainable Restaurant Operation, Lauren won the award of 'Sustainability Champion of the Year' 2019 for her efforts of community contribution and efforts towards advancement in sustainable hospitality.
TUCO Magazine October 2019 P22-23