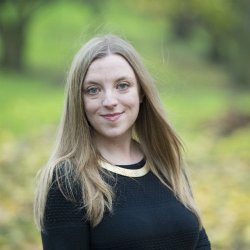 Dr Leona Archer
---
Senior Teaching Fellow in French & Senior Professional Training Tutor
MA, PhD
Biography
Biography
Leona has a PhD in medieval French literature from the University of Cambridge, MA in Medieval Studies and BA (Hons.) in French and Italian from the University of Exeter.
Leona joined the University of Surrey as a Teaching Fellow in French in 2015 and is also Senior Professional Training Tutor for Literature and Languages students.
Research interests
French Literature, Medieval European Literature, Gender Studies, Feminist Theory, Professional Training and the Year Abroad
My teaching
FRE1068 French Language II for Professional Purposes
FRE2035 French Language III for Research Purposes
FRE3024 The Arts in France
LANP032/33/34 Professional Training Year Module
FRE3020 French Dissertation (supervision)
FREL032 GGA French Stage 2
FREL035 GGA French Stage 5
My publications
Publications
BOOKS
Archer L, Stuart A. (eds.) (2013) Visions of Apocalypse: Representations of the End in French Literature and Culture. Oxford: Peter Lang
BOOK CHAPTERS
Archer L. (2012) 'Le Cœur et la clôture dans le cycle Lancelot-Graal', in Bisdorff C, Clemente M-C (eds.) Le Cœur dans tous ses états. Oxford: Peter Lang
Archer L. (2012) 'Extremities of Space and Gender in the Old French La Queste del Saint Graal', in Hemmens A, Williams, R. Autour de l'Extrême Littéraire. Newcastle: Cambridge Scholars Publishing
JOURNAL ARTICLES
Archer L. (2012) 'Review of Phyllis Gaffney, Constructions of Childhood and Youth in Old French Narrative'. Medium Ævum, 81 (2)
Archer L. (2011) 'Morgan's Captive Audience: Enclosure and Disclosure in the Old French Lancelot-Grail Cycle'. 2001 Group French Studies E-Journal, 5, ISSN 1749-3307.
Archer L. (2011) 'Review of Frank Brandsma, The Interlace Structure of the Third Part of the Prose Lancelot'. Medium Ævum, 80 (2)