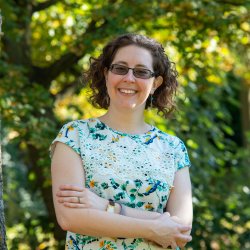 Dr Liz Bahs
---
Lecturer in Creative Writing and Programme Director for BA English Literature with Creative Writing
About
Biography
I joined the University of Surrey team in 2018, and before that taught at a variety of universities and schools including University of Sussex, Brighton Museum, The Open University, Central Sussex College, and Royal Holloway, University of London where I completed my doctoral research on the polyphonic poetry sequence. I have been an Associate Fellow of the Higher Education Academy since 2014.
Currently I am Programme Director for the English Literature and Creative Writing BA (Hons) and module leader for a variety of undergraduate and postgraduate modules. My ongoing writing and research projects including a residency at The Museum of Loss and Renewal in Collemacchia, Italy (2022), and individual and collaborative residencies at the Hambidge Center for Arts and Sciences in the mountains of northern Georgia, USA (2018 & 2019). I am a founding member of the Multi-Narrative International Research Association (based at University of Kiel, Germany), and the British and Irish Association for Narrative Studies. I regularly present my work at conferences including the International Conference on Narrative: Chichester, UK (2022), Pamplona, Spain (2019), McGill University, Montreal (2018) and University of Kentucky (2017), Narrative & Music, Brussels (2021), the Inaugural UK Narrative Studies Symposium, University of York (2019), Corroding the Now: Poetry + Science / Science Fiction (2019).
Recent publications include an article, "More Than the Sum of Its Parts: Multi-Narrative and Polyphony in Jackie Kay's Poetry Sequence 'The Adoption Papers.'" an the Multi-Narrative Working Paper in the journal Multi-Narratives: LWU: Literature in Science and Teaching. 2/2022 (2023). Poetry publications include Stay Bones (Pindrop Press, 2020) and Greyhound Night Service (Maquette Press, 2018) and individual pieces have been widely published in international magazines and journals including Envoi, HARTS & Minds: The Journal of Humanities and Arts, The Interpreter's House, Iota, Magma, Mslexia, The North, The Rialto, Southword, The Still Point Journal, Wasafiri, and Visual Verse. Poetry and microfiction have placed or been highly commended in the Mslexia Women's Poetry Competition (2015), The Fool for Poetry Chapbook Competition (2015), Literary Kitchen Flash Fiction Contest (2015), Magma Judge's Prize (2014), Wasafiri New Writing Prize (2013), and the Troubadour International Poetry Prize (2011).
I was the Festival Director of the Surrey New Writers Festival in Guildford from 2018-2021, and Academic Lead on SNWF 2022-23. I write poetry reviews for Frogmore Press and blog regularly about life as a writer, the process of creative writing, and literature at: whenyoureadtome.blogspot.co.uk 
Areas of specialism
creative writing;
long poems and poetry sequences;
poetry;
prose poetry;
nature writing / travel writing;
polyvocal / polyphonic;
Narrative Studies;
multi-narrativity
University roles and responsibilities
Programme Director for BA English Literature with Creative Writing

Languages and Literature rep for the LGBT Equality Group

Equality, Diversity, and Inclusion Staff Rep for Literature and Languages
My qualifications
Practice-based PhD in Creative Writing (Poetry)
Royal Holloway, University of London
MA English Literature: Sexual Dissidence and Cultural Change
University of Sussex
BA (Hons) English Literature and Creative Writing; Associate of Arts in Women's Studies; Associate of Arts in World Religions
University of Florida
Research

Research interests

I have a double focus to my research: firstly, on poetry sequences, in particular poly-vocal and polyphonic sequences from Robert Browning to present, with a special author focus on three contemporary poets: Gabrielle Calvocoressi, Amanda Dalton, and Jackie Kay. A monograph titled The Polyvocal Poetry Sequence: Answering Eliot is forthcoming with Palgrave Macmillan (2025) The second focus is on multi-narratives (esp poetry and hybrid forms) such as Cathy Park Hong's Dance Dance Revolution.

Other active research and creative areas include:

Multi-narrative in all forms of media, in particular series, serials, sequences, poly-vocal prose and poetry
Creative nonfiction / nature writing / contemporary travel writing
Hybrid poetry / prose projects

Research collaborations

At the 2017 conference of the International Society for the Study of Narrative in Lexington Kentucky, André Schwarck, Liz Bahs, and Corinne Bancroft met over a book called The History of Love (Nicole Krauss). They discovered that they share an enthusiasm for literature that juxtaposes distinct narrative strands.  For several years, André Schwarck has organized a research group at the Christian-Albrechts-University, Kiel that investigates the abundance of artifacts in contemporary media that consist of multiple and seemingly disjointed narratives. Meanwhile, in the U.K., Liz Bahs wrote her own poetry as she studied the polyphonic and polyvoiced nature of contemporary poetry sequences.  At the same time and across the ocean, Corinne Bancroft traced the outlines of a novel genre  called the braided narrative, where authors twine together distinct, often conflicting narrative threads. Since Lexington, these scholars have continued to collaborate to research the delightful, troubling, and mysterious aspects of the multi-narrative.
Supervision
Postgraduate research supervision
I am not currently open to receiving new proposals from PhD applicants at this time (up through 2024).
From 2025 onwards I will be open to supervision in the following areas of literature and creative writing: 
Poetry sequences or extended narratives, including hybrid forms
Multi-narratives in all forms, including series, serials, poly-vocal prose and poetry
Projects exploring the connections between music and literature / writing
Creative nonfiction, especially nature writing or contemporary travel writing
Postgraduate research supervision
Leah Fryer (PhD Candidate Creative Writing). Novel Title: A Lifetime with Camille; Thesis: Expectations for Women in the Nineteenth Century: Usage in Historical Fiction and Effects on Camille Doncieux as Wife to an Aspiring Painter
Rosie Ngure (PhD Candidate Creative Writing). Novel Title: Outrageous Women of Acacia; Thesis: African Women Writers: From Radical Beginnings of Indomitable Voices to Contemporary Fiction's Diasporic Voices of Female Freedom
Trevor Datson (PhD Candidate Creative Writing). Novel Title: The Memory Pact; Thesis: The Memory Pact: Interrogating the affordances of melopoetics in literary prose
Teaching
Introduction to Creative Writing
Thinking Like a Writer
Contemporary Storytelling
Science Fiction
Understanding the Novel
Postgraduate Research & Writing Skills
Understanding Poetry
Writing Poetry: Composition and Craft
MA Creative Writing Workshops
Narrative Theory
Publications
Liz Bahs
(2020)
Stay Bones
Liz Bahs's debut collection of poetry straddles continents and generations – from a childhood in America to an adult life in the UK, from long-dead relatives to loved ones today. A family history is brought alive in a photographic sequence: "Through green shagpile fields, she gallops on / tiptoe" (Chicken Pox Nude), while in University of Florida: Jennings Hall we meet Lisa: 'in the hallway, between the toilets / and the fire escape, skinny Lisa roller-skated / in her un- derwear, Budweiser in hand". We also encounter Tony "in silver stilettos, tunes his voice higher", a sex worker called Victoria, and the pilot of Flight 1549 who landed his plane on the Hudson river. A poignant medley of insights and char- acters, delivered with wit and grace, this collection lingers after the final page.
Liz Bahs
(2018)
Greyhound Night Service
A pamphlet of poetry and haibun. Maquette Press, 2018