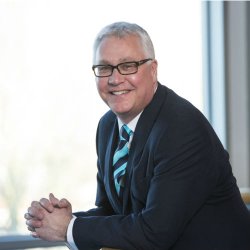 Paul Stephenson
---
Vice-President, Human Resources
Executive Assistants: Angeline Lee and Linda Riches
About
Biography
A graduate in History from Nottingham University, Paul Stephenson spent 25 years in FTSE businesses in a range of senior HR roles, including Director of HR at Booker Prepared Foods Group and Director of HR Services at Severn Trent Water.
Paul joined the University of Surrey in 2010 from his role as Director of HR and Commercial Services at the University of Warwick.
Paul is an INSEAD Alumni, having attended their Advanced Management Programme for Senior Executives and served as an Advisor to their Management Board. He is trained in Advanced Coaching Skills by the British Coaching Foundation,
in the use of psychometrics by Saville and Holdsworth, and in job evaluation methodology by HAY.
Paul was an inaugural member of the Global Academic Executive, and for five years was a member of the Employers' Pension Forum, established to oversee changes to the USS pension arrangements.
Paul is one of five senior executives tasked with heading up the University's response to critical incidents and ensuring business continuity. He is the University's Vice-President, Human Resources– you can find details of this office on our Executive Board page.