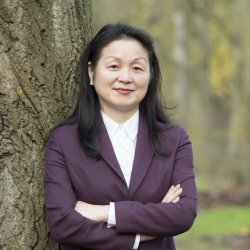 Shihong Turner
---
Teaching Fellow in Chinese
Biography
Biography
Shihong Turner is teaching fellow in Chinese at the University of Surrey. Shihong teaches the Chinese (Mandarin) language programmes at all levels and is actively involved in the MA in Chinese interpreting and translation programmes at the University. Shihong is also a qualified and registered interpreter and translator specialising in English Law and business in the UK. Her work experience in this field includes acting as a linguist expert for the Criminal Justice System (CJS), Her Majesty's Revenue and Customs, Home Office and business conferences.
Shihong holds MA in Translation, Diploma in Public Service Interpreting (Law), BA in English, BA in Hospitality and Tourism Management (Education), and a number of other qualifications in relation to business and language training. Shihong was also the winner of the European Scholarship of Hospitality and Tourism Management Study in China.
Prior to joining the University of Surrey in 2003, Shihong taught Professional English and Tourism and Hospitality Management in the Higher Education Sector in China, and Shihong was consecutively awarded The Teacher of the Year for two years. Her previous work experience also included touring around China as a hotel inspector and acting as a manager in major hotels in China.
Research interests
Language teaching and trainingBusiness interpreting and translationLegal interpreting and translationLanguage, cultural and communication
Teaching
Chinese/Mandarin language courses at all levels.
Affiliations
Member of IoL, ITI, RPSI and BCLTS
Publication highlights
Hotel Service and Management (Book, co-author, China Tourism Education Publishing, 2000)
F. & B. Service and Management (Book, co-author, China, Jiangsu Science and Technology Publishing House, 2001)