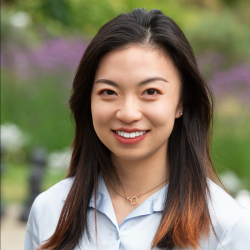 Dr Wenqi Wei
---
Lecturer in Hospitality Management
PhD
About
Biography
Dr. Wenqi Wei joined in University of Surrey as a lecturer in hospitality management in September 2023. She received her Ph.D. in management from the University of Massachusetts Amherst in U.S., M.S. from the University of Florida in U.S., and B.S. from Qingdao University in China. Her research interests include information technology, text mining, and service innovation. 
University roles and responsibilities
Director of Marketing and Communications
Research

Research interests

Information Technology, Text Mining, Service Innovation
Teaching
MAN3212 DIGITAL EVENTS MANAGEMENT          
MANM386 RESEARCH METHODS       
MAN2206 DIGITAL INNOVATION & DATA ANALYTICS     
MANM516 BUSINESS ANALYTICS      
MANM517 HOSPITALITY INFORMATION SYSTEMS
Publications
Highlights
Wei, W., Baker, M. A., & Onder, I. (2023). All without leaving home: building a conceptual model of virtual tourism experiences. International Journal of Contemporary Hospitality Management, 35(4), 1284-1303.
Zhong, L., Verma, R., Wei, W., Morrsion, A. M., & Yang, L. (2022). Multi-stakeholder perspectives on the impacts of service robots in urban hotel rooms. Technology in Society, 68, 101846.
Wei, W., & Önder, I. (2022). An exploratory study of consumers' travel-related concerns about COVID-19. In Information and Communication Technologies in Tourism 2022: Proceedings of the ENTER 2022 eTourism Conference, January 11–14, 2022 (pp. 245-255). Springer International Publishing.
Onder, I., & Wei, W. (2022). Time Series Analysis: Forecasting Tourism Demand with Time Series Analysis. In Applied Data Science in Tourism: Interdisciplinary Approaches, Methodologies, and Applications (pp. 467-480). Cham: Springer International Publishing.