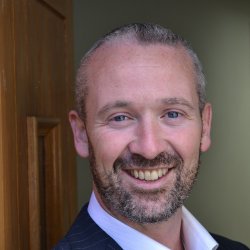 Will Davies
---
Executive Assistant: Linda Riches
About
Will has been Chief People Officer at the University of Surrey since September 2019 and is a member of the University's Executive Board.
He is an accomplished HR leader, bringing more than 20 years of experience in strategic people management and operational leadership. He graduated from the University of Wales, Swansea with a degree in Psychology and Politics, which he feels uniquely set him up for a career in HR. 
 
Will spent the early part of his career with BP, working with global logistics, marketing and technology business units.  Subsequent to leaving BP his career has become more focused on business growth and transformation; he was part of the management team which rapidly scaled up the charity Teach First, which sparked his passion for education. From here he moved into the public sector working as Director of Human Resources at the Ordnance Survey with a brief to develop a more commercial trajectory, before moving and taking up the role of Chief People Officer at Homes England. 
He has also worked in consultancy roles within the health and professional services sectors.
 
Will is a passionate believer in creating the right environment for people to succeed and ensuring his HR teams are set up with the correct support and toolkits to make this happen.