Discover student life
At Surrey we'll inspire you to experience everything student life has to offer. Whether it's grabbing lunch with friends on campus, trying out our impressive sports facilities, or discovering some of our many exciting events and student societies, you'll quickly find incredible opportunities are everywhere you look.
Experience life at Surrey
Discover more about what it's like to be a postgraduate student at Surrey.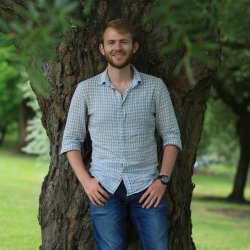 "The campus was close enough to London to interact with potential employers (as well as days out!) and being in the countryside helped me to relax and focus on my studies without too much distraction."
Jay Cadman, International Corporate Finance MSc
Helping you on your journey
If you need help you with your career journey or information related to your student experience we offer careers information, advice and guidance
Students' Union
The University of Surrey Students' Union (USSU) is a not-for-profit, student-run organisation that represents all University of Surrey students at a local and national level. 
Events at Surrey
We host a diverse range of events for all audience, such as celebrity interviews, distinguished lectures, international conferences, music recitals and more.