OJPA: Onward journey planning assistant
Overview
The OJPA project aims to ease the daily frustrations of travelling on public transport by developing a virtual assistant based on artificial intelligence (including machine learning, evolutionary computation and decision control). Unlike current route recommendation apps, the OJPA product learns the individual needs of passengers, as well as their repeating journeys, and seamlessly offers real-time alternative routes, including shared on-demand taxi services, in the likely event that a delay happens. Customers will be able to make their needs known via a chatbot (on wi-fi) – whether they want to find out the speed or price of a journey, or need to find a seat or access a power source on a train.
The end product – an online app – has the AI engine developed at Surrey at its core and is being trialled at London Bridge station by Moses Mobility in collaboration with Network Rail, Uber and City Cab, as well as bus services operated by Heathrow Express. In the future, the app may be extended to take into account real-time information on security incidents or natural disasters, while data privacy and GDPR will provide a further interesting challenge.
Funding amount
£230,000
Funder
Team
Principal investigator
Co-investigator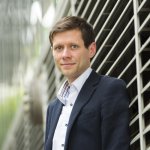 Partners
CommuterHive
Snapout
ManagePlaces
Govia Thameslink Railway (GTR).