Band C rooms
Our band C accommodation consists of standard single rooms in Battersea Court, Surrey Court, Cathedral Court, Stag Hill Court, Twyford Court and University Court on Stag Hill campus.
Key facts
Number of rooms: 1,458 
Single rooms: Yes ✓
Shared rooms: No ✗
En-suite shower: No ✗
Self-catered: Yes ✓
Broadband: Included ✓
Belongings insurance: Included ✓
Residents parking: None ✗
Bus pass: Subsidised passes available
Approximate total room area: 9.3m²
Cost: £103.00 to £112.00 (academic year 2022/23)
Please note it is not possible to select to be allocated to a specific court or campus. The price difference between and within the rent bands reflects the difference in facilities of each court.
Battersea and Surrey Court
Battersea and Surrey Courts typically comprise four or five-storey houses with between 5 and 15 single rooms and a kitchen on each floor. Most rooms have a washbasin, and each floor shares three toilets and three showers. The kitchens are large and provide space to prepare meals as well as for socialising. Battersea Court Reception serves both courts and has a television room and games area. The flats that comprise of five rooms share two toilets and two showers and do not washbasins in the bedrooms. 
Cathedral Court
Cathedral Court has seven houses located a short distance away from the centre of campus but close to the Teaching Block and the Library. Each block typically has three or four floors of seven rooms, each with a washbasin, a kitchen, two shared showers and two toilets. Cathedral Court reception building has a TV room and pool table.
Stag Hill Court
Stag Hill Court is a sociable and popular place to live, close to the Students' Union and Rubix. The Court has 43 terraced houses each with a large kitchen, six single rooms without washbasins and two split-level (duplex) rooms (see Band A-Shared). The single rooms are arranged in pairs sharing an adjacent shower room with toilet and washbasin. It has a communal lounge with television and pool table.
Twyford Court
Twyford Court has flats of five rooms all with washbasins, sharing a kitchen and two shower rooms and two toilets. Located in a relatively quiet area of the campus and close to the Guildford School of Acting facilities. It shares a communal TV room in the Cathedral Court Reception Building.
University Court
University Court houses have levels with sections containing four rooms without washbasins, sharing a shower room and two toilets. The whole house shares a communal kitchen. Located at the edge of campus, it is close to the town centre and railway station. It shares a communal TV room and reception with nearby Stag Hill Court and Millennium house.
Band C video tours
View our gallery of video tours around our Band C rooms.
Band C photos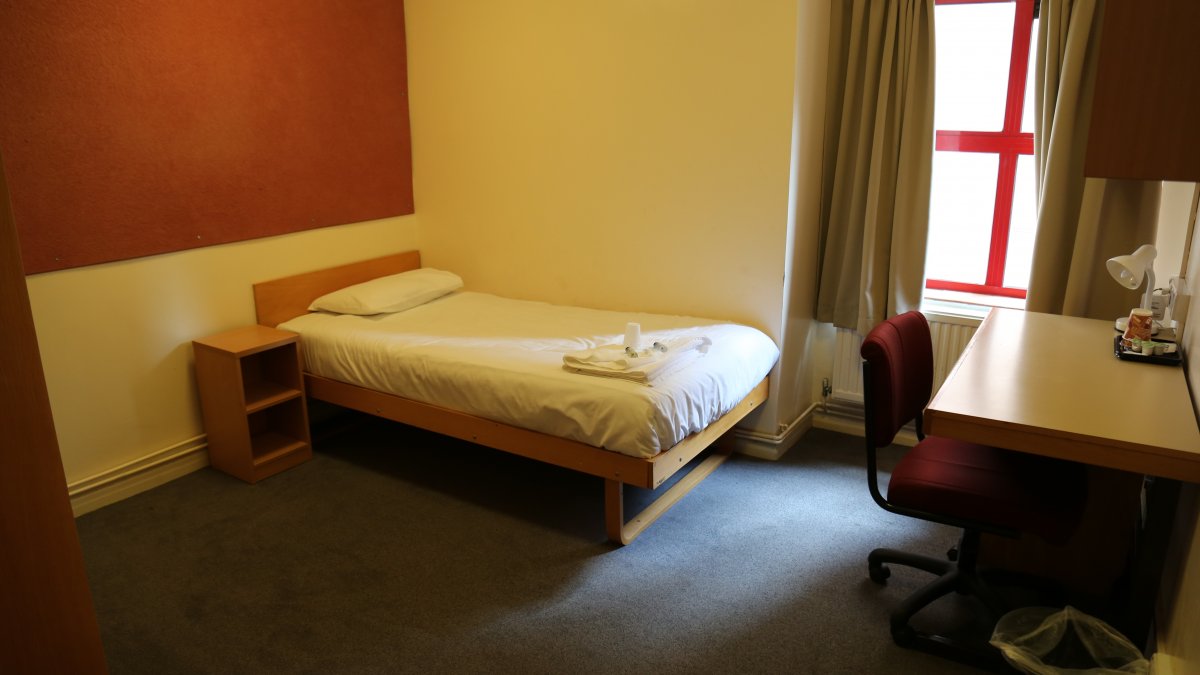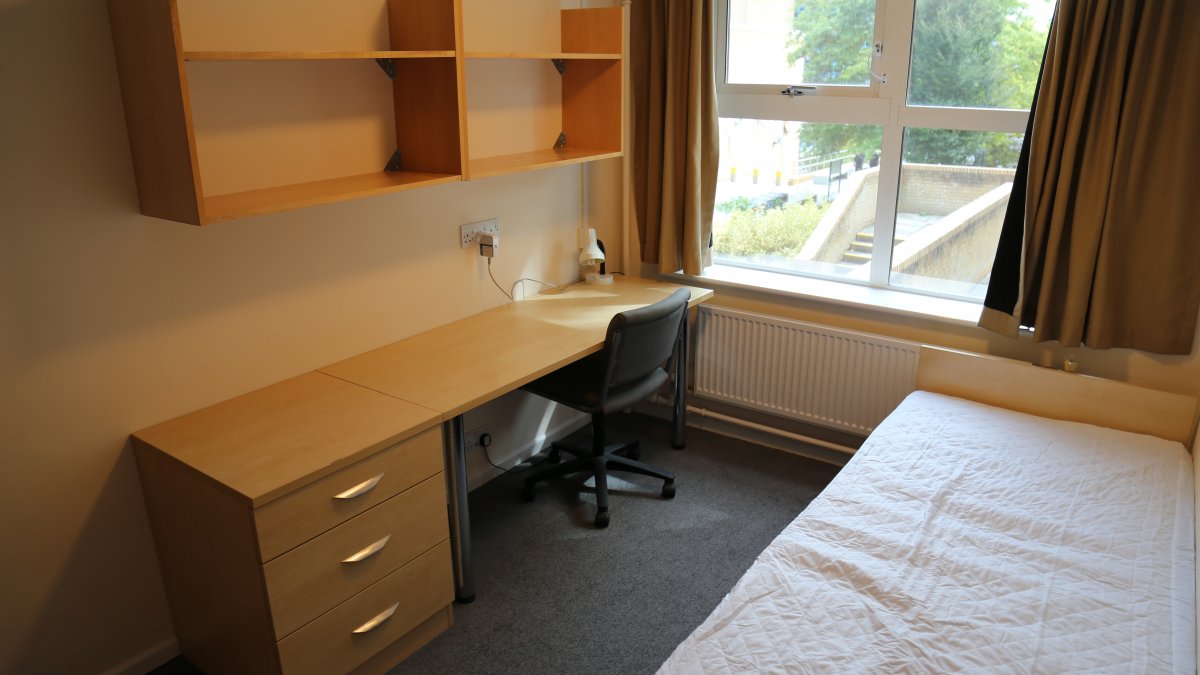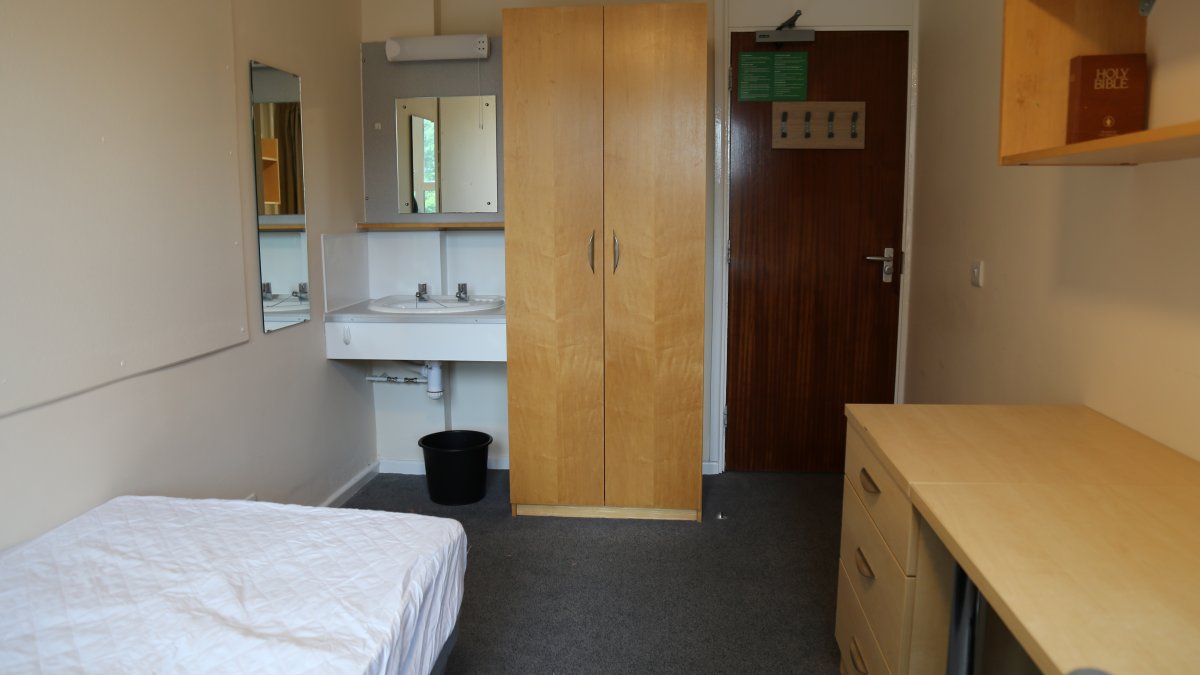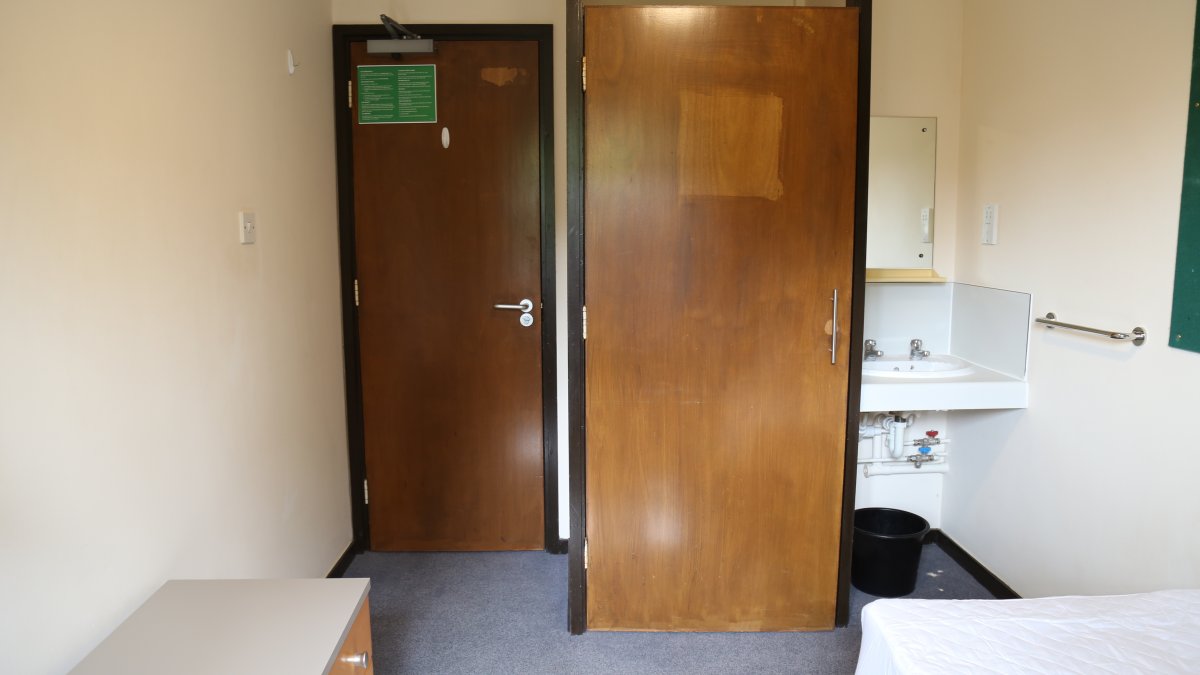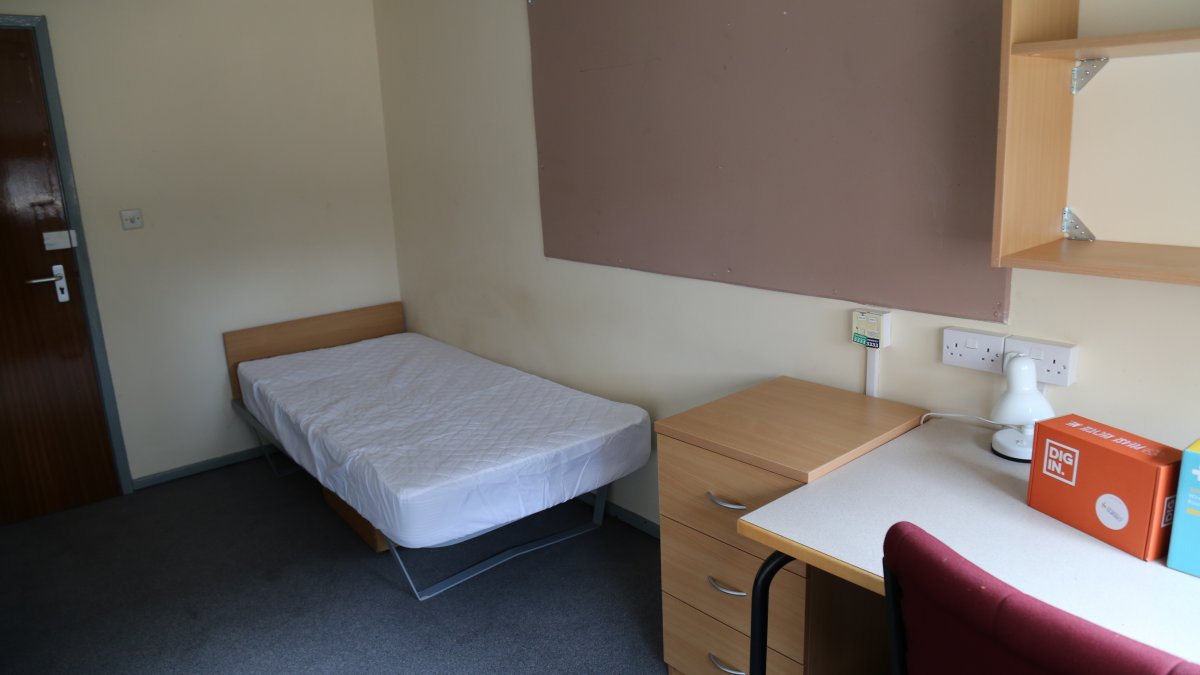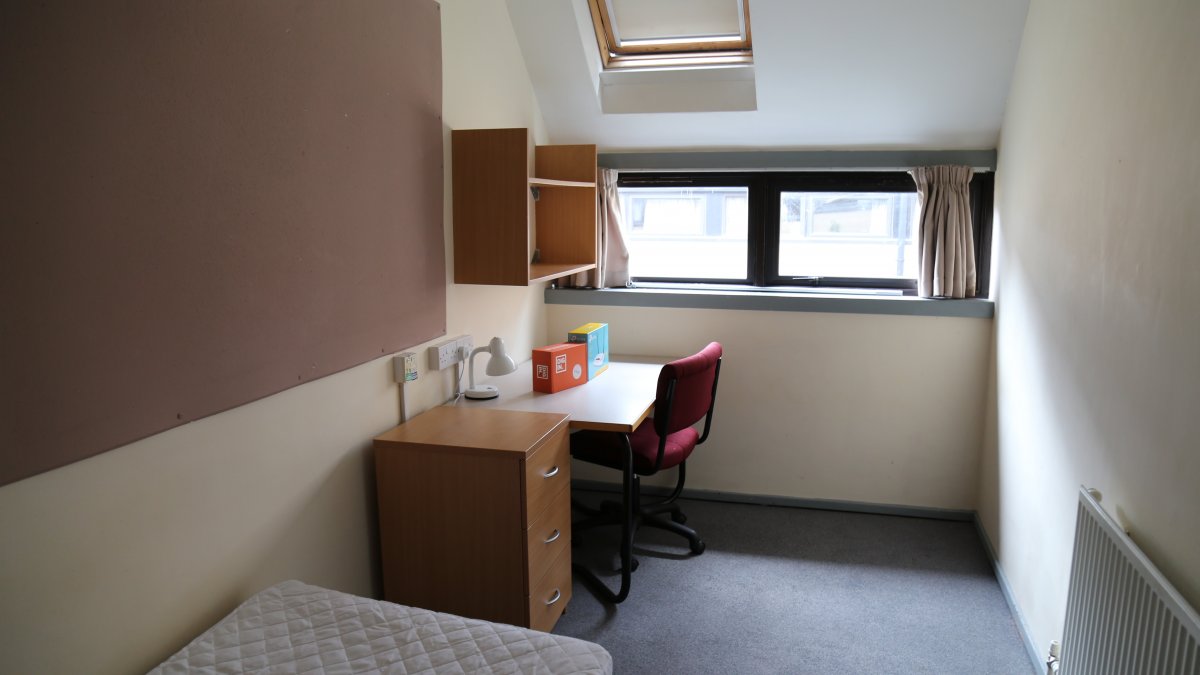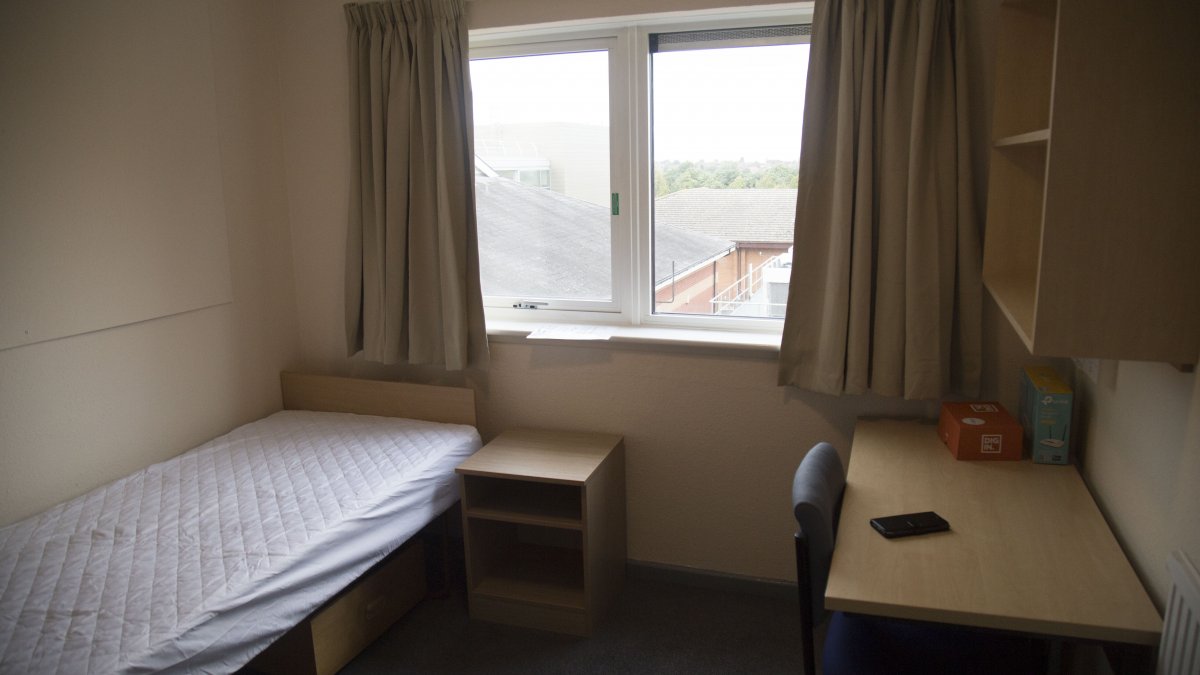 Visit the University of Surrey virtual reality app to see 360 degree photos of our campus accommodation, Guildford and the surrounding area. Available on both Apple App Store and Google Play.
Floor plans
View floorplans of Band C accommodation on our Stag Hill campus.