SurreyConnects
SurreyConnects is our new online platform bringing alumni and students together for networking and mentoring.
Register, create your profile and get networking online, find talent for your business, develop mentoring skills by supporting current students and share your knowledge with others.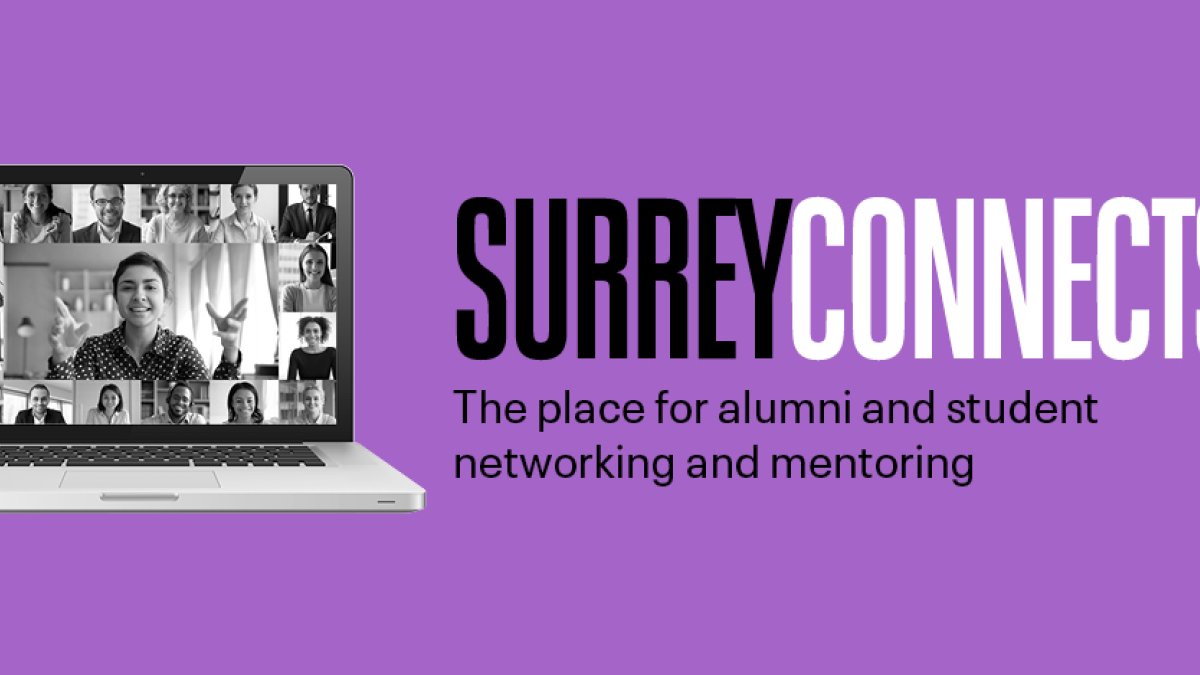 About SurreyConnects
The SurreyConnects platform is a place where students and recent graduates can reach out to ask one-off questions about your industry or request short-term career mentoring over a 'virtual coffee'. 
Let's harness the power of the Forever Surrey alumni network and help students and recent graduates prepare for success in the job market.  Read our handy quick-start guide.
Watch our SurreyConnects animation
Features of SurreyConnects
Job vacancies and the ability to advertise jobs
A directory of alumni and students willing to help one another
Integrated video calling and messaging – meaning it can all happen in one place!
News, events and photo galleries 
Resources to get started as a mentor
You can customise your own profile, decide how much time you are able to spare and what you'd like to get involved with. 
All it takes is one click to make a connection.
Read our SurreyConnects guide (PDF) to find out how to get started.
Three Cups of Coffee Mentoring Scheme
Three Cups of Coffee is our short-term, informal, mentoring scheme on SurreyConnects.
Over three online chats, you can become a mentor and offer advice and networking opportunities to students who are starting out in their careers. This simple programme will create meaningful connections for mentors and mentees alike.
Read the overview of the scheme or watch our video below.
Why join SurreyConnects?
Re-connect with fellow Surrey graduates and meet new people.
Access new talent – meet talented students and recent graduates looking for opportunities.
Stay connected – keep up to date with the latest news from your University.
Boost your network – meet others from the Surrey community, gain new perspectives and open up new opportunities.
Support our students – help the next generation of Surrey graduates by sharing your career or industry experiences.  
Become a mentor and boost your CV – develop your own skills by taking part in the informal, short-term mentoring programme, Three Cups of Coffee. We'll be here with resources and ideas to support you as you become a mentor on the scheme.
What alumni are saying about SurreyConnects
SurreyConnects has come at a very timely point in my life, where I felt like I wanted to be a part of something and wanted to reconnect with Surrey.
Semirah MBA, BSc Business Management 2009
This is a great platform. I've just joined and I've already had a mentoring session with a final year student. It felt so good listening to her challenges, which I can totally relate to.
Jewel, MEng Chemical and Bioprocess Engineering 2000
It isn't often that you get time to reflect upon your professional journey and joining SurreyConnects has allowed me time to do this. I would recommend to any alumni, if they have the time, to follow the 'Three Cups of Coffee' mentoring scheme on SurreyConnects.
Philip, BSc Mathematics 1996
Good initiative. I got some great help when I was graduating that shaped my career. Now I'm happy to give back to anyone who needs help.
Simon, BSc Chemistry, 1986