Sustainability
We work with our local community to promote sustainability on a local, national and global level.
New solar facility with SSE Energy Solutions to help decarbonise our campus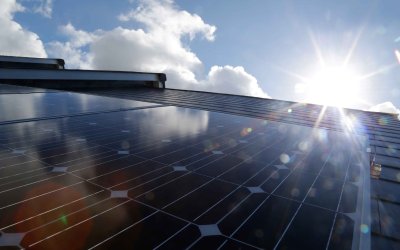 The University of Surrey has unveiled further details of its new 12.2MW solar facility on its own land to the west of Guildford that will help the campus accelerate its journey to net zero.
The University's partnership with SSE Energy Solutions will step up its on-site renewable energy generation from 0.1% to 20% of total annual demand. Once complete, it will be capable of generating enough energy to supply the equivalent of 4,000 UK homes each year.
The project offers an opportunity to enhance the surrounding biodiversity of the land with wildflower planting, nature corridors, hedgerow expansion and bug hotels.
Solar facilities that have been monitored regularly by ecologists demonstrate an increase over time in the local abundance and variety of plants, pollinators, birds, and other wildlife.
A local community event was carried out prior to submitting the planning application to gather feedback from the residents and discuss questions about the project. a follow up event was also held at Kings College school in Park Barn for parents and local residents to ask further questions. 
The solar facility will reduce carbon emissions by an estimated 1,110 tonnes per year and is crucial in meeting the University's 2030 net zero carbon target, established using the science-based targets initiative.
Surrey has already made inroads towards meeting its target and cut emissions by 24% between 2005 and 2019 and will be rolling out the first phase of its staff and student electric vehicle charging programme later this year.
Another step to solidify its leading status in the sector will be the launch of the Surrey Institute for Sustainability later this year, to enable inter-disciplinary research.
SSE recently unveiled an ambitious £12.5bn capital investment plan to accelerate progress towards net zero and its distributed energy team brings real-world, practical experience of implementing low carbon distributed energy solutions on the ground. This solar project with the University is just one example of its efforts to help people and places to decarbonise and move towards net zero.  The UK Government has also recently announced the intention to increase the national solar capacity by five times by 2035.
Guildford in Bloom 2019
In 2019, the University entered a student garden into the Guildford in Bloom competition for the second time. Designed by Physics PhD student Daisy Shearer, the garden was themed around the 50th Anniversary of the Lunar Landings and celebrated all aspects of quantum computing. We were delighted to win a Gold and Best in Category award in the Student Garden Showcase category – an amazing achievement for all those who worked on the Quantum Garden.