8am - 10am
Thursday 4 March 2021
Street-scale greening for cooling and clean air in cities (SCAN) webinar
Green street, clean air street. This webinar is co-chaired by Professor Prashant Kumar and Professor Pascal Perez.
Overview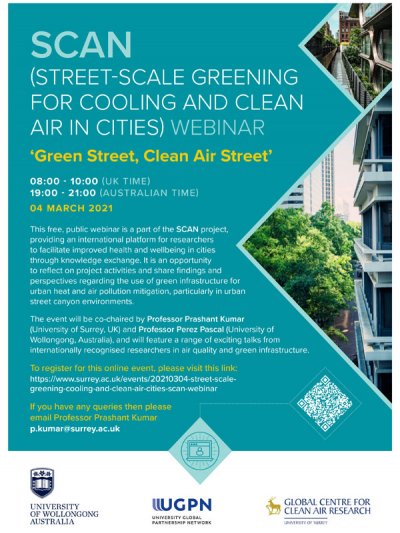 Street canyons are the most polluted city environments due to high traffic volumes and limited ventilation. In the Covid-19 era, urban green infrastructure (GI) is more important than ever.
GI offers many benefits, including air pollution abatement. However, relationships between GI, air quality and cooling of the street environment are complex and optimal GI design remains unclear, with potential for negative repercussions. To support decision-makers and address this global need, we will develop a new framework for street-scale greening that is generic, inclusive of pollution-cooling trade-offs, evidence-based, and practicable.
We will use experimental and modelling approaches, undertake trial demonstrations, and integrate results to create a collaborative platform. We will engage stakeholders, foster staff-student exchange and develop scope to leverage future funding via research proposals.
Scope
This webinar is an integral aspect of the SCAN project, providing an international platform for researchers to facilitate improved health and wellbeing in cities through knowledge exchange. It is an opportunity to reflect on project activities and share findings and perspectives regarding the use of green infrastructure for urban heat and air pollution mitigation, particularly in street canyon environments.
Programme
Time (GMT)
Activity
8am - 8:05am

Professor Paul Smith

Welcome and introduction
Pro-Vice-Chancellor, Executive Dean (FEPS), University of Surrey

8:05am - 8:10am

Professor Prashant Kumar and Professor Pascal Perez

Brief Introduction to programme and SCAN project
Director, Global Centre for Clean Air Research, University of Surrey and Director, SMART, University of Wollongong

Session 1 (Chair: Professor Lidia Morawska)

8:10am - 8:25am

Professor Prashant Kumar

Green Infrastructure and Exposure Mitigation
University of Surrey, UK

8:25am - 8:40am

Professor Laurence Jones

The implications of rural-urban linkages for air quality at street level
UK Centre for Ecology and Hydrology Environment Centre Wales

8:40am - 8:55am

Dr John Gallagher

International Guidance for Green Infrastructure
Trinity College Dublin and The United States Environmental Protection Agency, USA

8:55am - 9:05am
Q&A session

Session 2 (Chair: Dr Hugh Forehead)

9:05am - 9:20am

Professor Kristine French

Green spaces to improve Australian cities
Director, Janet Cosh Herbarium
University of Wollongong, Wollongong, Australia

9:20am - 9:35am

Associate Professor Joe Hurley

Prioritising heat mitigation efforts for active travel at the city scale
Centre for Urban Research, RMIT University, Melbourne, Australia

9:35am - 9:50am

Alison Haynes

Small plants in the big (green) city: what role for moss?
PhD Candidate
Centre for Sustainable Ecosystem Solutions, University of Wollongong, Wollongong, Australia

9:50am - 10am
Q&A session

Concluding remarks
Registration
Register for this webinar to join us on Thursday 4 March from 8am - 10am UK time (7pm - 9pm Australian time).
The deadline is Wednesday 3 March at midnight (UK time).
Contact
If you have any queries then please email Professor Prashant Kumar (p.kumar@surrey.ac.uk).