---
feature
Published:
07 November 2018
A career in civil engineering
Former Surrey student Jonathan Gammon has spent more than 40 years working on some of the world's most high profile ground engineering and tunnelling projects, and recently gave the Department of Civil and Environmental Engineering's Annual Lecture. We asked him about his time at Surrey and the highlights of his fascinating career.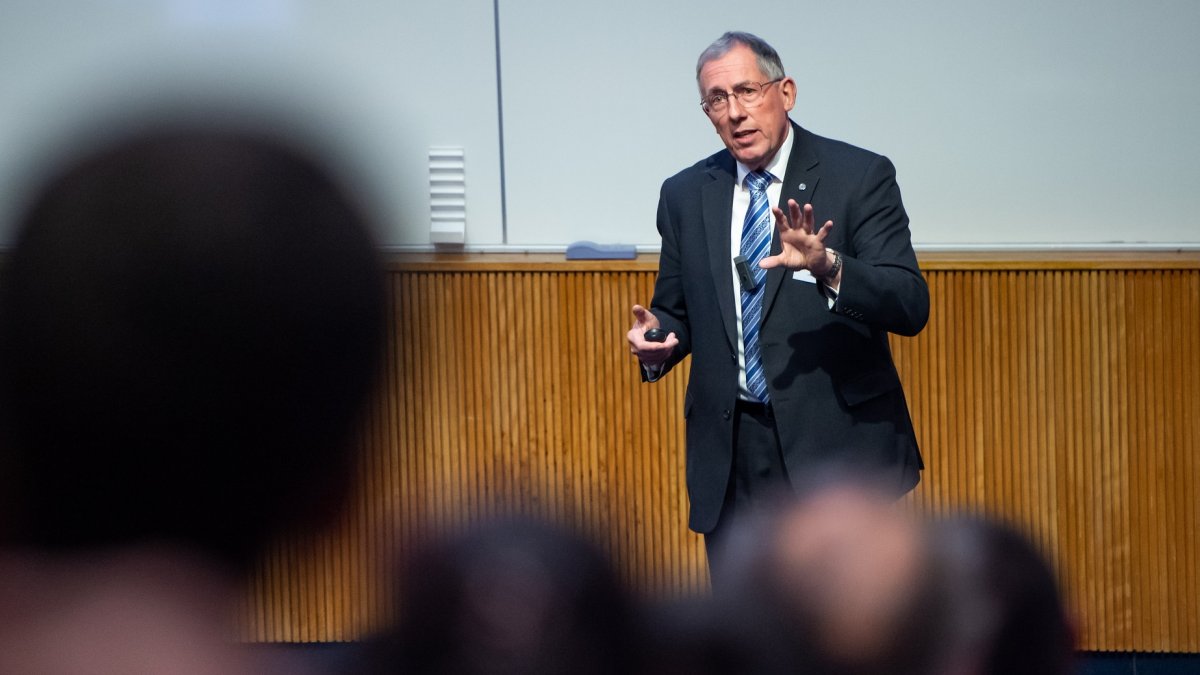 What first inspired you to study civil engineering?
When I was about 11 or 12, I saw a new C&A department store which was being built in Southampton, on my weekly visit to the library. I looked into a little window on the site and saw the basement under construction and the superstructure starting to appear and I thought: that looks really interesting.
What were the best things about studying at Surrey?
I was attracted to Surrey in the first place because of the industrial year (now known as the Professional Training year) it offered. The University did a fantastic job of creating opportunities in the UK and overseas, and I spent my placement year in Switzerland, working for the leading Swiss contractor Marti AG on the record-breaking Felsenau Bridge over the River Aare.
Another placement student and I lived in a caravan on site and often worked 12 hour shifts, taking responsibility way beyond our years. I became fluent in German and learned what it's like to be at the sharp end of contractors' work. I would still say that it was one of the most exciting and best projects I've ever worked on.
You've had an amazing career spanning over 40 years and five continents. What have been some of the highlights?
Over the years I've been lucky enough to work on some incredible, high profile projects including the Second Severn Crossing in the UK, Tauranga Harbour Crossing in New Zealand, Ras Laffan Port in Qatar, the Kowloon-Canton Railway Corporation's West Rail project in Hong Kong, Dublin Metro North underground railway in Ireland, and the New Europe Bridge over the River Danube, between Bulgaria and Romania.
I was also Head of Ground Investigations for Phase One of the High Speed 2 Railway (HS2), which was by far the biggest ground investigation the UK has ever seen. Receiving £67m from HM Treasury in December 2014, and getting the go-ahead to award the contracts and start the work, was the best Christmas present I've ever had!
What are the biggest changes you've seen in the industry?
One of the major changes is that welfare and health & safety have become a lot more important and talked about. There's now much more awareness of mental health issues in the industry.
What are the best things about working as a civil engineer?
The chance to travel and immerse yourself in different cultures is definitely one. After becoming chartered in 1977, my first overseas job for Atkins was in the west part of Algeria, on a ground investigation for a wastewater treatment plant, with no communication with the outside world. I then worked on projects in Saudi Arabia, Iran, and Egypt before relocating with my family for longer periods in Hong Kong and in New Zealand, where I'm proud to have dual nationality.
However I think the highlight of my career has been the opportunity to work in a team, alongside so many wonderful people. Seeing junior colleagues, men and women, go on to become directors and role models has been a real pleasure.
Discover our programmes in civil and environmental engineering, including our BEng/MEng degrees in Civil Engineering.