---
news
Computer science masters students join Innovators Challenge
Two Surrey MSc students attended the first ever Innovators Challenge – a three-day national event which put students' cyber security skills to the test.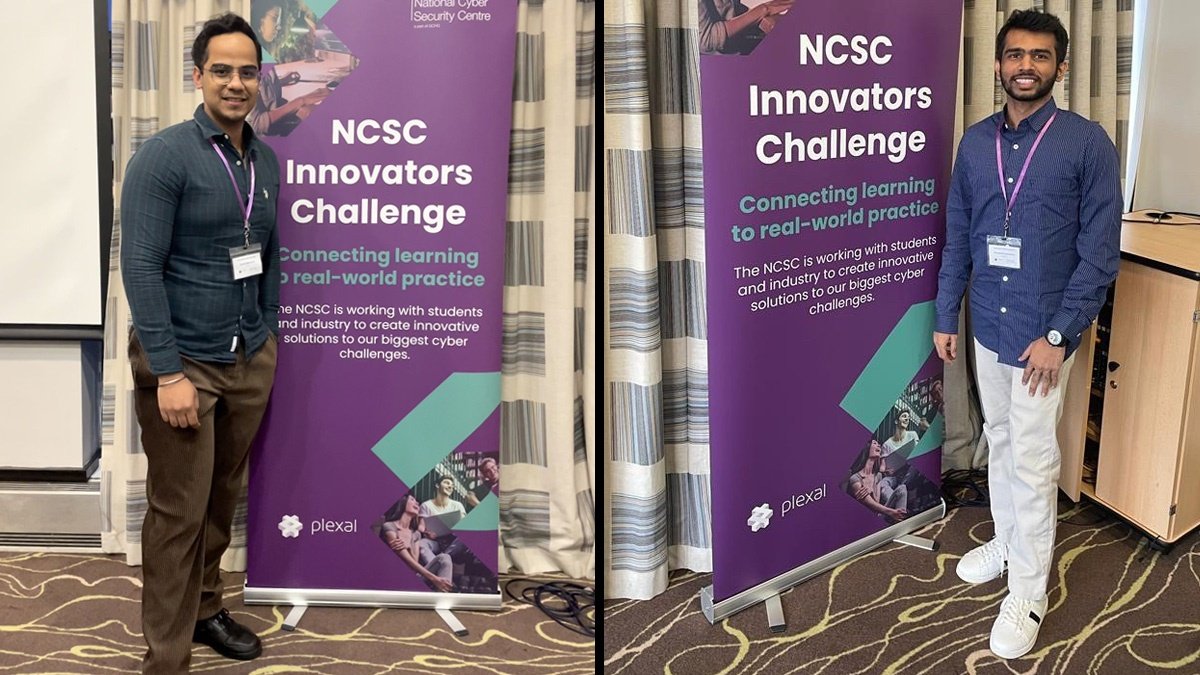 Akash Mamman and Himanshu Pokharkar, who are studying on Surrey's MSc Information Security, joined 50 students from around the UK for the Innovators Challenge, which took place in Manchester from 28 February to 2 March.
Led by the National Cyber Security Centre (part of GCHQ), the event was open to undergraduate and postgraduate students studying for NCSC-certified degrees, giving them the chance to collaborate, learn from industry professionals and gain hands-on cyber experience.
Students were challenged with developing solutions to address key cyber security challenges and then pitching them to a panel of industry representatives. Tasked with solving the issue of safe remote working, Akash and his team developed a product which could detect the behaviour of an employee working from home to analyse the type of cyber attack they are most likely to experience and provide specific training to avoid such an attack.
Responding to the same challenge, Himanshu's team developed a USB hardware solution which would enable remote workers to log into their office network securely without the hassle of implementing different software on their personal devices.
Akash commented:
"One of the best things about the event was interacting with like-minded people from different universities which really helped me in expanding my knowledge, while the continuous brainstorming sessions developed my analytical thinking skills. We also got the opportunity to meet the top industry leaders from NCSC and the private sector, and talk to them about specific queries."
Himanshu said: "We learned about design thinking fundamentals on the first day, prototyping and storyboarding on the second and how to pitch the ideas/solutions on the third day. The entire process gave me a fair idea of the different challenges involved in developing a product.
"The one-to-one discussions with industry leaders gave me a unique perspective on how upper management deals with cyber security challenges."
Dr Boureanu, Deputy Director of Surrey Centre for Cyber Security and Surrey's Academic Centre for Excellence – Cyber Security Education (ACE-CSE) said: "As an NCSC-certified centre of excellence in both cyber security education and research, we strive to support and engage our students in cyber security extracurricular activities across the whole spectrum – from hackathons to capture-the-flag competitions and innovation-centred events. We are proud to see our students grow and become equipped for a workforce in demand, and we're delighted to be part of the NCSC-backed networks which enable these selective opportunities."
Discover our courses in computer science, including our Information Security MSc.