---
news
Published:
10 January 2023
The Datafied Family - Event & Call for Papers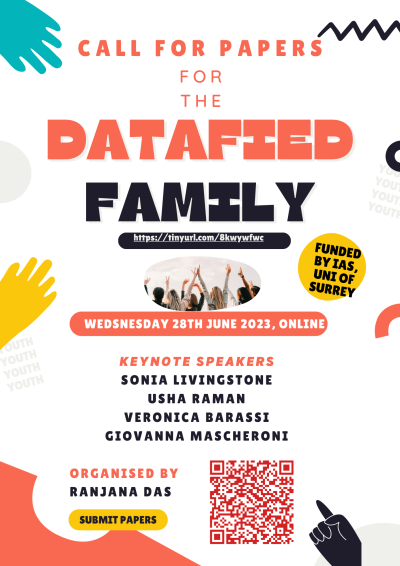 From body-trackers, non-human digital support apps, smart home tech, parenting apps and gadgets, surveillance devices from the womb to the cradle, technologies of intimacy and play in the Internet of the Things, and wellbeing and wellness support bots – the textures of family life are changing – at disparate paces across global cultures and economies with a steady increase in family technologies, which are subtly, and not so subtly altering the doing of care, intimacy, leisure, learning, play, routine and more. 
The Datafied Family – a day-long, international, virtual workshop – interrogates these issues and will bring international voices at the cutting-edge of Sociology, Communications, Education, Data Science, and Health and Wellbeing – to meet the University of Surrey's longstanding interests in digital societies, technology and society, family sociology and health, parenthood and childhood.
Keynote speakers at the event include Professor Sonia Livingstone, London School of Economics, UK; Professor Usha Raman, University of Hyderabad, India; Dr Giovanna Mascheroni, Catholic University of Milan, Italy and Professor Veronica Barassi, University of St Gallen, Switzerland
Professor Das said:
'This event, particularly helped by its fully online and free-to-attend format, will bring together scholars across disciplines and career stages, looking at the interface between emerging technologies amidst datafication, and the family – including multiple generations, facet and relationships. A lot of fantastic work has been going on in the area, across the globe, and this event will be an excellent opportunity for the community of scholars working on datafication and families to come together.'
Event Website and Call for Papers
The event website can be found on this link and the event welcomes paper submissions on its submission portal in the following areas – which are indicated below but not produced as an exhaustive list –
Surveillance technologies in the home
Body trackers
Geo-location devices and relationships
Datafication of intimacies and sexuality
Parenthood, parenting and platforms
Childhood, big data and datafication of childhood
Rights based perspectives on data technologies in the family
Kinship, routines, time and technology
Aging, care and emerging technologies
Smart home technologies
Leisure, play, learning and Big Data
Algorithmic cultures, resistance, play and algorithmic shaping of family life
Data driven discrimination
Data inequalities and injustices
Redefining 'family' in an era of datafication
Abstract submission details:
Final Submission Deadline: 28th February 2023
Notification of Outcome: March 20th 2023
Event date: 28th June, 2023, 930 am to 3 pm UK time.
Submission portal: [*please submit your abstract here *].
If any questions, please get in touch with Professor Ranjana Das, at r.das@Surrey.ac.uk